Honey, I'm Homemade
Sweet Treats from the Beehive across the Centuries and around the World
Illustrated by Nils Cordes
Why a honey recipe book? Because nothing could be sweeter!
Paper – $21.95
978-0-252-07744-9
eBook – $14.95
978-0-252-09004-2
Publication Date
Paperback: 11/08/2010
About the Book
Honey, I'm Homemade: Sweet Treats from the Beehive across the Centuries and around the World showcases a wealth of recipes for cookies, breads, pies, puddings, and cakes that feature honey as an essential ingredient. Noted entomologist May Berenbaum also details the fascinating history of honey harvesting and consumption around the world, explains the honey bee's extraordinary capacity to process nectar into concentrated sweetness, and marvels at honey's diverse flavors and health benefits.
Honey is a unique food because of its power to evoke a particular time and place. Every time it is collected from a hive, honey takes on the nuanced flavors of a particular set of flowers--clover, orange blossoms, buckwheat, or others--at a certain point in time processed and stored by a particular group of bees. Honey is not just a snapshot of a time and place--it's the taste of a time and place, and it lends its flavors to the delectable baked goods and other treats found here.
More than a cookbook, Honey, I'm Homemade is a tribute to the remarkable work of Apis mellifera, the humble honey bee whose pollination services allow three-quarters of all flowering plant species to reproduce and flourish. Sales of the book will benefit the University of Illinois Pollinatarium--the first freestanding science outreach center in the nation devoted to flowering plants and their pollinators.
Because so much depends on honey bees, and because people have benefited from their labors for millennia, Honey, I'm Homemade is the perfect way to share and celebrate honey's sweetness and delight.
About the Author
May Berenbaum
is Swanlund Professor of Entomology at the University of Illinois at Urbana-Champaign. She is a Fellow of the American Academy of Arts and a member of the National Academy of Sciences. Her other books include
Ninety-Nine Gnats, Nits, and Nibblers
;
Ninety-Nine More Maggots, Mites, and Munchers
;
Bugs in the System: Insects and Their Impact on Human Affairs
;
Buzzwords: A Scientist Muses on Sex, Bugs, and Rock 'n' Roll
; and
The Earwig's Tail: A Modern Bestiary of Multi-legged Legends.
---
Also by this author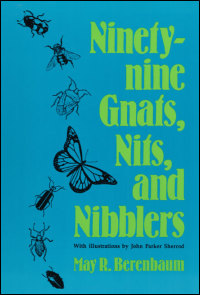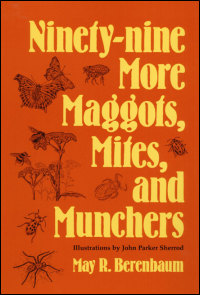 ---