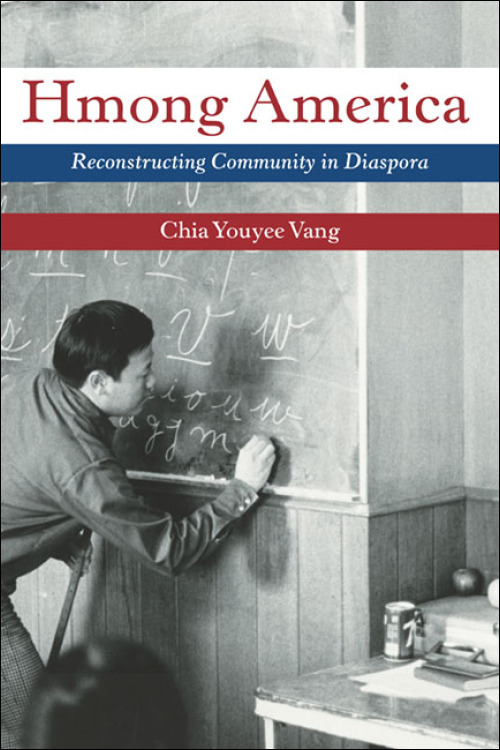 Hmong America
Reconstructing Community in Diaspora
An unprecedented inside view of the Hmong experience in America
Cloth – $110
978-0-252-03568-5
Paper – $27
978-0-252-07759-3
Publication Date
Paperback: 01/01/2010
Cloth: 01/01/2010
About the Book
The first scholarly work to come from inside the Hmong community,
Hmong America
documents Chia Youyee Vang's own migration from Laos to Minnesota at age nine and the transformations she has witnessed in Hmong communities throughout the migration and settlement processes.
Vang depicts Hmong experiences in Asia and examines aspects of community building in America to reveal how new Hmong identities have been formed and how they have challenged popular assumptions about race and ethnicity in multicultural America. Combining participant observation and archival research with personal experience, Vang constructs a nuanced and complex portrait of the more than 130,000 Hmong people who came to the United States as political refugees beginning in the mid-1970s. Her critique of previous representations of the Hmong community provides the sociological underpinnings for a bold reassessment of Hmong history in the greater context of globalization. This new understanding redefines concepts of Hmong homogeneity and characterizes ordinary Hmong migrants not as passive victims but as dynamic actors who have exercised much power over their political and social destinies.
About the Author
Chia Youyee Vang is a professor of history at the University of Wisconsin-Milwaukee. She is the author of Fly Until You Die: An Oral History of Hmong Pilots in the Vietnam War and Hmong in Minnesota.
Reviews
"The most comprehensive account to date of contemporary Hmong American history. A true strength of the volume is Vang's detailed account of how Hmong American communities across the United States have evolved since the refugee resettlement of the mid-1970s."--
Minnesota History
"An invaluable introduction to contemporary Hmong American society."--
Journal of Southeast Asian American Education & Advancement
---
Blurbs
"Chia Youyee Vang is a skilled historian and is among the scholars with the most expertise on Hmong American communities. Using a pathbreaking blend of archival and ethnographic evidence, she presents a unique interpretation of Hmong refugees and their descendants in the United States that cannot be found in any other existing work."--Jeremy Hein, author of Ethnic Origins: The Adaptatation of Cambodian and Hmong Refugees in Four American Cities
---