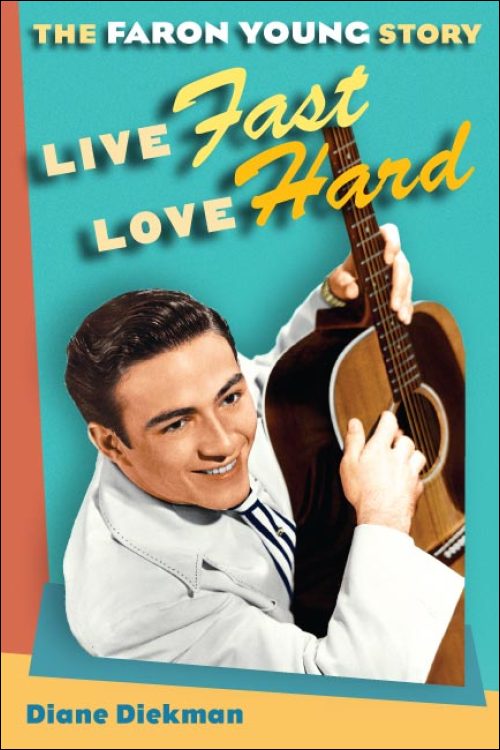 Live Fast, Love Hard
The Faron Young Story
A guts and glory biography of honky-tonk great Faron Young
Paper – $19.95
978-0-252-07842-2
eBook – $14.95
978-0-252-09380-7
Publication Date
Paperback: 02/13/2012
About the Book
As one of the best-known honky-tonkers to appear in the wake of Hank Williams's death, Faron Young was a popular presence on Nashville's music scene for more than four decades. The Singing Sheriff produced a string of Top Ten hits, placed more than eighty songs on the country music charts, and founded the long-running country music periodical
Music City News
in 1963. Flamboyant, impulsive, and generous, he helped and encouraged a new generation of talented songwriter-performers that included Willie Nelson and Bill Anderson. In 2000, four years after his untimely death, Young was inducted into the Country Music Hall of Fame.
Presenting the first detailed portrayal of this lively and unpredictable country music star, Diane Diekman masterfully draws on extensive interviews with Young's family, band members, and colleagues. Impeccably researched, Diekman's narrative also weaves anecdotes from the Louisiana Hayride and other old-time radio shows with ones from Young's business associates, including Ralph Emery. Her unique insider's look into Young's career adds to an understanding of the burgeoning country music industry during the key years from 1950 to 1980, when the music expanded beyond its original rural roots and blossomed into a national--and ultimately, international--phenomenon. Echoing Young's characteristic ability to entertain and surprise fans, Diekman combines an account of his public career with a revealing, intimate portrait of his personal life.
About the Author
Diane Diekman
is the author of
Twentieth Century Drifter: The Life of Marty Robbins;
Navy Greenshirt: A Leader Made, Not Born;
and
A Farm in the Hidewood: My South Dakota Home.
A retired U.S. Navy captain, she was acquainted with Faron Young for 26 years before his death in 1996.
---
Also by this author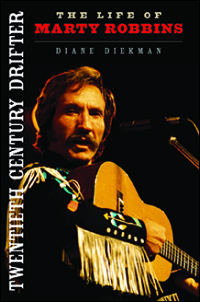 Reviews
"Incorporating published accounts, interviews, and personal insights, this balanced book is important in keeping the memory of a chart-topping country artist alive and in putting the country music scene of the period into perspective. Recommended."--
Library Journal
"Finally someone's written the story of Faron Young's life, one of country music's most colorful characters."--
Nashville Musician
"His is a rich story, spanning the golden age of honky-tonk, women, liquor, ruin and glory, and no small entrepreneurial spirit. . . . Diekman is scrupulous and meticulous in her assemblage of details. . . . Young's family and surviving friends seem to have given her ready access and unflinching honesty."--
No Depression
"Diane Diekman . . . takes us on a journey from his early life, through the recording successes, the failed marriage, the career downturn, the depression and, finally, to that fateful night . . . when he put the pistol to his head."--
Country Music People
"
Live Fast, Love Hard,
a sobering account of the Singing Sheriff's roller-coaster life that ended with his 1996 suicide, tells the tale of two Youngs: one, a talented, flamboyant performer and charitable man who helped the community and struggling songwriters like Willie Nelson and Bill Anderson, and who helped country music by founding the long-running periodical
Music City News;
the other, a raging alcoholic and jealous husband with an explosive temper, whose addiction and poor self image . . . led him to abuse and cheat on his wife, and verbally abuse his children, band members, and friends when he was drinking. . . . Diane Diekman . . . provides readers a rare glimpse inside the tumultuous life of this talented and troubled musician."--
Dirty Linen
---
Blurbs
"Diane's level of research is incredible! I learned things about my father that I never knew before."--Robyn Young

"Diekman has done such a thorough job that there is unlikely ever to be another Faron Young biography to compete with it. She has uncovered a great deal of information that will be news to even Faron Young's most passionate fans and friends."--Paul Kingsbury, editor of The Encyclopedia of Country Music and Will the Circle Be Unbroken: Country Music in America

"Everyone who knew Faron--as a friend, as a fan, or as an enemy--is going to treasure this book."--Bill Mack, host of Country Crossroads and member of the Country Music DJ Hall of Fame

"I've never read a book on someone in the music business that inspired so many different feelings--laughter, sadness, pity, and even crying!"--Glenn Sutton, member of Nashville Songwriters Hall of Fame
---