The Organs of J. S. Bach
A Handbook
Translation by Lynn Edwards Butler; Introduction by Christoph Wolff
An expansive tour of the instruments that Bach knew
Cloth – $110
978-0-252-03684-2
Paper – $32
978-0-252-07845-3
eBook – $14.95
978-0-252-09391-3
Publication Date
Paperback: 05/07/2012
Cloth: 05/07/2012
About the Book
The Organs of J. S. Bach
is a comprehensive and fascinating guide to the organs encountered by Bach throughout Germany in his roles as organist, concert artist, examiner, teacher, and visitor. Newly revised and updated, the book's entries are listed alphabetically by geographical location, from Arnstadt to Zschortau, providing an easy-to-reference overview.
Includes detailed organ-specific information:
--High-quality color photographs
--Each instrument's history, its connection to Bach, and its disposition as Bach would have known it
--Architectural histories of the churches housing the instruments
--Identification of church organists

Lynn Edwards Butler's graceful translation of Christoph Wolff and Markus Zepf's volume incorporates new research and many corrections and updates to the original German edition. Bibliographical references are updated to include English-language sources, and the translation includes an expanded essay by Christoph Wolff on Bach as organist, organ composer, and organ expert.
The volume includes maps, a timeline of organ-related events, transcriptions of Bach's organ reports, a guide to examining organs attributed to Saxony's most famous organ builder Gottfried Silbermann, and biographical information on organ builders.
Publication of this volume is supported by the American Bach Society.
* Publication of this volume is supported by the American Bach Society
About the Author
Christoph Wolff
is Adams University Professor at Harvard University and director of the Bach Archive in Leipzig.
Markus Zepf
, a musicologist and organist, is on the staff of the Germanic National Museum in Nuremberg.
Lynn Edwards Butler
, who has published numerous articles on the organ, is a practicing organist with special expertise in restored baroque organs in north and central Germany.
---
Also by this author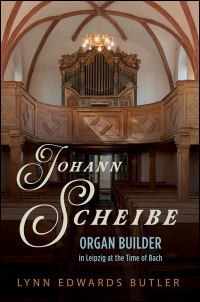 Reviews
"Replete with organ specifications, high-quality photographs, and lists of bibliographic sources. Highly recommended."--
Choice
"Elegant and readily portable as 'a travel companion for the suitcase.'"--
American Record Guide
"[A] treasury of information smartly organised and compactly exhibited. . . . The book will prove an invaluable as a ready reference tool, as the Handbook of the title suggest."--
Journal of the British Institute of Organ Studies
"This English translation and expansion of Wolff and Zeph's earlier research will be welcomed by all, but especially by performers, organ lovers, and those whose ability to glean technical details from German is less than idea."--
Fontes Artis Musicae
---
Blurbs
"We now have an English translation of the most comprehensive study of the Bach organs. This is a vital resource that will enrich the lives of many, and it provides an enlightening and exciting venture into the Bach realm."--Jack Mitchener, Oberlin College

"An easily readable and usable collection of information about organs related to Bach. This elegant and accurate translation fills a clear and present need for scholars, organists, musicologists, and the interested general public."--Joel Speerstra, author of Bach and the Pedal Clavichord: An Organist's Guide
---