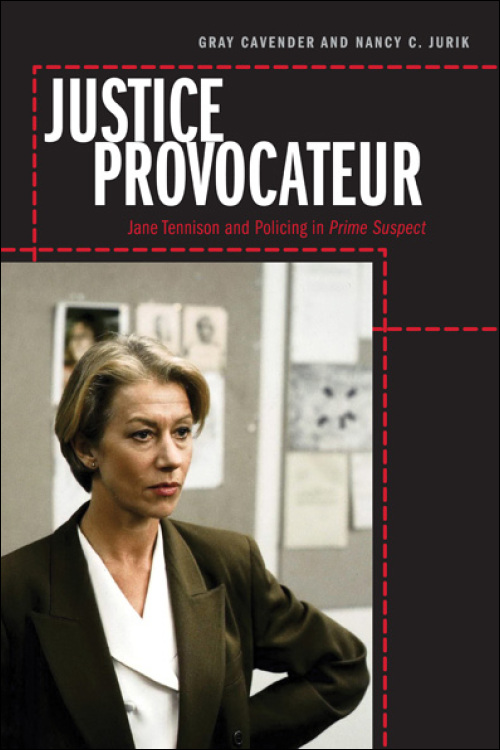 Justice Provocateur
Jane Tennison and Policing in Prime Suspect
An insightful character-study of one of television's most compelling detectives
Cloth – $110
978-0-252-03719-1
Paper – $27
978-0-252-07870-5
eBook – $19.95
978-0-252-09431-6
Publication Date
Paperback: 09/04/2012
Cloth: 09/04/2012
About the Book
Justice Provocateur
focuses on
Prime Suspect,
a popular British television film series starring Oscar and Emmy award-winning actress Helen Mirren as fictional London policewoman Jane Tennison. Gray Cavender and Nancy C. Jurik examine the media constructions of justice, gender, and police work in the show, exploring its progressive treatment of contemporary social problems in which women are central protagonists. They argue that the show acts as a vehicle for progressive moral fiction--fiction that gives voice to victim experiences, locates those experiences within a larger social context, transcends traditional legal definitions of justice for victims, and offers insights into ways that individuals might challenge oppressive social and organizational arrangements.
Although Prime Suspect is often seen as a uniquely progressive, feminist-inspired example within the typically more conservative, male-dominated crime genre, Cavender and Jurik also address the complexity of the films' gender politics. Consistent with some significant criticisms of the films, they identify key moments in the series when Tennison's character appears to move from a successful woman who has it all to a post-feminist stereotype of a lonely, aging career woman with no strong family or friendship ties. Shrewdly interpreting the show as an illustration of the tensions and contradictions of women's experiences and their various relations to power, Justice Provocateur provides a framework for interrogating the meanings and implications of justice, gender, and social transformation both on and off the screen.
About the Author
Gray Cavender is a criminologist and professor in the faculty of Justice & Social Inquiry at Arizona State University and the coauthor of Corporate Crime Under Attack: The Fight to Criminalize Business Violence. Nancy C. Jurik is a sociologist and professor in the faculty of Justice & Social Inquiry at Arizona State University. She is the coauthor of Doing Justice, Doing Gender: Women in Legal and Criminal Justice Occupations.
Reviews
"This book should appeal to anyone interested in examining or studying portrayals of women in the mass media and popular culture, as well as anyone interested in how fiction can relate to and reflect the real world."--
Contemporary Sociology
---
Blurbs
"Exploring the television series Prime Suspect as an exemplar of a newly emergent 'progressive moral fiction,' Cavender and Jurik blend an examination of gender role dynamics in the criminal justice system with the experience of victims, offenders, and professionals within that system. Justice Provocateur offers a novel device for exploring social class and justice through popular culture."--Michael A. Hallett, author of Private Prisons in America: A Critical Race Perspective
---