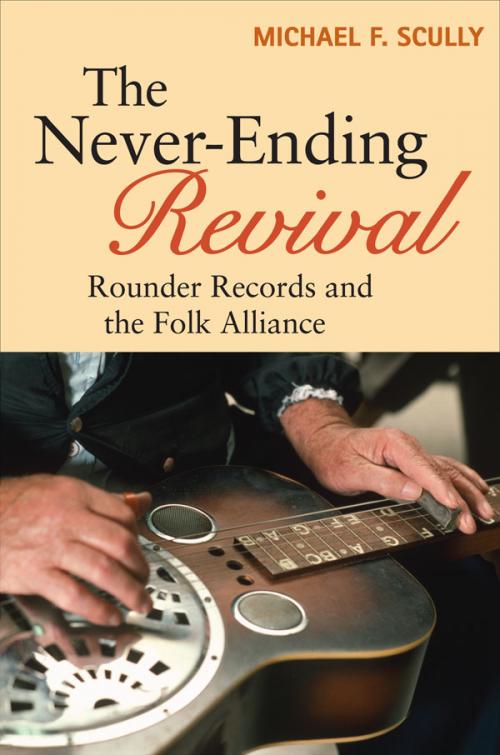 The Never-Ending Revival
Rounder Records and the Folk Alliance
A groundbreaking history of the American folk music revival
Paper – $30
978-0-252-07929-0
eBook – $19.95
978-0-252-05421-1
Publication Date
Paperback: 02/04/2013
About the Book
In recent years, there has been an upsurge in interest in "roots music" and "world music," popular forms that fuse contemporary sounds with traditional vernacular styles. In the 1950s and 1960s, the music industry characterized similar sounds simply as "folk music." Focusing on such music since the 1950s,
The Never-Ending Revival: Rounder Records and the Folk Alliance
analyzes the intrinsic contradictions of a commercialized folk culture. Both Rounder Records and the North American Folk Music and Dance Alliance have sought to make folk music widely available, while simultaneously respecting its defining traditions and unique community atmosphere. By tracing the histories of these organizations, Michael F. Scully examines the ongoing controversy surrounding the profitability of folk music. He explores the lively debates about the difficulty of making commercially accessible music, honoring tradition, and remaining artistically relevant, all without "selling out."
In the late 1950s through the 1960s, the folk music revival pervaded the mainstream music industry, with artists such as Bob Dylan and Joan Baez singing historically or politically informed ballads based on musical forms from Appalachia and the South. In the twenty-first century, the revival continues, and it includes a variety of music derived from Cajun, African American, and Mexican traditions, among many others. Even though the mainstream music industry and media largely ignore the term "folk music," a strong allure based on nostalgia, the desire for community, and a sense of exclusiveness augments an enthusiastic following connected by word-of-mouth, numerous festivals, and the Internet. There are more folk festivals now than there were during the original boom of the 1960s, suggesting that music artists, agents, and record label representatives are striking a successful balance between tradition and profitability. Scully combines rich interviews of music executives and practicing folk musicians with valuable personal experience to reveal how this American subculture remains in a "never-ending revival" based on fluid definitions of folk and folk music.
About the Author
Michael F. Scully is an attorney and holds a Ph.D. in American Studies from the University of Texas at Austin.
Reviews
"Scully explores many facets of the folk music revival. . . . Well written, well researched."--
Bluegrass Unlimited
"For those of us with a fondness for Rounder and all the offbeat music it has brought us throughout the years, this book . . . is a must-have."--
Sing Out!
"With care and grace, Scully details the power struggles, the hirings and resignations, the handwringing and public denunciations that characterize any organization that tries to blend notions of cultural purity with commercial ambitions."--
American Studies
"[A] thoughtful and insightful book. . . . Scully's important exploration of the folk music revival . . . will only gain in significance as the opportunities for the transmission of folk music increase."--
ARSC Journal
"A keenly insightful study."--
Western Folklore
---
Blurbs
"A clear, intelligent, insightful, and open-minded look into the world of folk music. This well-researched book details the conflicts inherent in a hard-to-define musical genre."--Tommy Erdelyi (Tommy Ramone)

"Scully covers new territory in exploring the recent history of folk music in the United States by focusing on Rounder Records and the North American Folk Music and Dance Alliance. This book is essential for anyone interested in recent developments in folk music and its role in the aftermath of the folk revival of the 1960s."--Ronald D. Cohen, author of Folk Music: The Basics

"This well-researched book fills an important gap in the chronicle of the folk revival. Particularly impressive is Scully's recapitulation of the painful debates about Rounder's commercial survival and the nature of folklore and folk song."--Ed Cray, author of Ramblin' Man: The Life and Times of Woody Guthrie
---