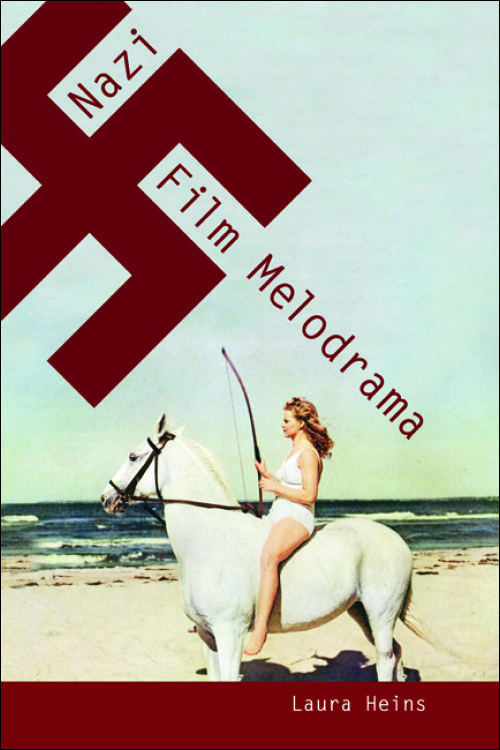 Nazi Film Melodrama
A new perspective on popular cinema during the Third Reich
Paper – $32
978-0-252-07935-1
eBook – $19.95
978-0-252-09502-3
Publication Date
Paperback: 10/14/2013
Cloth: 10/14/2013
About the Book
Cultural productions in the Third Reich often served explicit propaganda functions of legitimating racism and glorifying war and militarism. Likewise, the proliferation of domestic and romance films in Nazi Germany also represented an ideological stance. Rather than reinforcing traditional gender role divisions and the status quo of the nuclear family, these films were much more permissive about desire and sexuality than previously assumed. Focusing on German romance films, domestic melodramas, and home front films from 1933 to 1945,
Nazi Film Melodrama
shows how melodramatic elements in Nazi cinema functioned as part of a project to move affect, body, and desire beyond the confines of bourgeois culture and participate in a curious modernization of sexuality engineered to advance the imperialist goals of the Third Reich.
Offering a comparative analysis of Nazi productions with classical Hollywood films of the same era, Laura Heins argues that German fascist melodramas differed from their American counterparts in their negative views of domesticity and in their use of a more explicit antibourgeois rhetoric. Nazi melodramas, film writing, and popular media appealed to viewers by promoting liberation from conventional sexual morality and familial structures, presenting the Nazi state and the individual as dynamic and revolutionary. Some spectators objected to the eroticization and modernization of the public sphere under Nazism, however, pitting Joseph Goebbels' Ministry of Propaganda against more conservative film audiences in a war over the very status of domesticity and the shape of the family. Drawing on extensive archival research, this perceptive study highlights the seemingly contradictory aspects of gender representation and sexual morality in Nazi-era cinema.
About the Author
Laura Heins is an assistant professor of media studies and Germanic languages and literatures at the University of Virginia.
Reviews
"Highly Recommended."--
Choice
"A work of astute research carried out in careful study of films and archives and scrutiny of contemporary writings,
Nazi Film Melodrama
is a pathfinding investigation of the interplay of ideology, popular culture and cinematic genres."--
Shepherd Express Milwaukee
"Prof. Heins (UVa) demonstrates that the most popular motion picture genre under the Nazi regime was not war or propaganda pictures, as one might expect, but rather domestic and romantic melodramas. There are many surprises in her analysis. . . .
Nazi Film Melodrama
will be of particular interest to students of war films, as German servicemen and the Second World War form the backdrop of most of these pictures."--
NYMAS Review
"Through substantial chapters on romance, domestic and home-front melodrama, Laura Heins explores a universal genre in a very particular time and place. Triangulated with Nazi film and melodrama are gender politics. Drawing out convincing contradictions between theory and practice in Nazi cultural politics, the author catalogues sometimes surprising themes in these films."--
American Historical Review
"
Nazi Film Melodrama
is an important addition to scholarship on film of the Third Reich, and promises to open up new interest in the complexities of gender and cinematic production of the era."--
H-Net Reviews
---
Blurbs
"A significant addition to the study of German cinema. Through nuanced arguments and compelling evidence, Heins challenges our understanding of the role of not only melodramatic elements but of the body, desire, gendered identity, and sexuality in German cinema during the Third Reich."--Lutz Koepnick, author of The Dark Mirror: German Cinema between Hitler and Hollywood
---