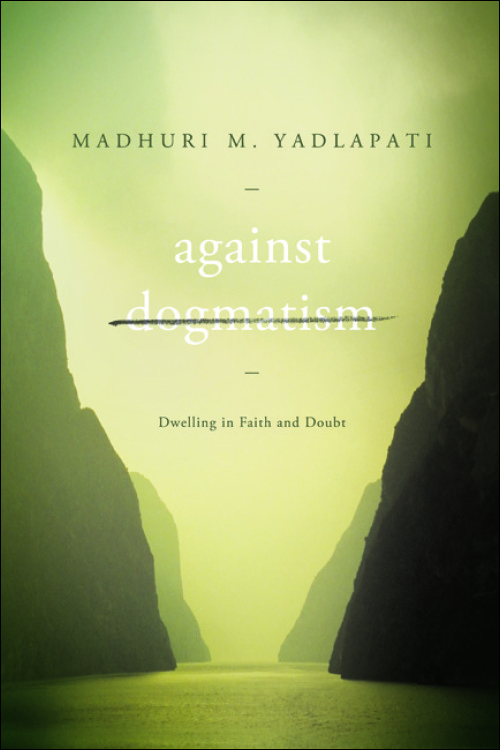 Against Dogmatism
Dwelling in Faith and Doubt
The shortcomings of skepticism and dogma, the enrichment of faith through doubt, and a "middle way" to hope
Paper – $22
978-0-252-07945-0
eBook – $19.95
978-0-252-09520-7
Publication Date
Cloth: 12/30/2013
About the Book
Many contemporary discussions of religion take an absolute, intractable approach to belief and nonbelief that privileges faith and dogmatism while treating doubt as a threat to religious values. As Madhuri M. Yadlapati demonstrates, however, there is another way: a faith (or nonfaith) that embraces doubt and its potential for exploring both the depths and heights of spiritual reflection and speculation. Through three distinct discussions of faith, doubt, and hope, Yadlapati explores what it means to live creatively and responsibly in the everyday world as limited, imaginative, and questioning creatures. She begins with a perceptive survey of diverse faith experiences in Islam, Buddhism, Judaism, Hinduism, and Protestant Christianity and then narrows her focus to Protestant Christianity and Hinduism to explore how the great thinkers of those faiths have embraced doubt in the service of spiritual transcendence.
Yadlapati traces religious perspectives on trust, humility, belonging, commitment, and lively skepticism as they relate to faith and doubt. Drawing on various doctrines, scriptures, and the writings of great religious thinkers such as C. S. Lewis, Søren Kierkegaard, Karl Barth, and Raimon Panikkar, Yadlapati demonstrates how doubt can serve to enhance faith, not hinder it. Defending the rich tapestry of faith and doubt against polarization, Against Dogmatism reveals an ecumenical middle way, a spiritual approach native to traditions in which faith and doubt are interwoven in constructive and dynamic ways.
About the Author
Madhuri M. Yadlapati is has a Ph.D in philosophy of religion from Yale University and is an instructor in religious studies at Louisiana State University.
Reviews
"A refreshing approach to the interplay between fundamentalism and atheism. . . . The author offers a convincing critique of the opposition of faith and doubt, but also provides a means by which they can engage one another in the hope of countering dogmatism. Recommended."--
Choice
"The detailed book demonstrates Yadlapati's scholarship in the field of religious studies and the philosophy of religion, but challenges the reader to follow a rigorous review of the aforementioned religious traditions, myths, and scholarship. . . . Exploring religious traditions in a post dogmatic form is successfully achieved in this masterful work."--
Religious Studies Review
"Accessibly written, with numerous, easily digested examples, this is the kind of book religious studies majors and seminarians long to bring home."--
Journal of Hindu-Christian Studies
---
Blurbs
"In a comparative theology across a number of religious traditions, Madhuri M. Yadlapati very lucidly sketches possible ways to think about faith and doubt. This book will appeal to general readers as well as students interested in religion and spirituality."--Susan Abraham, Harvard Divinity School
---