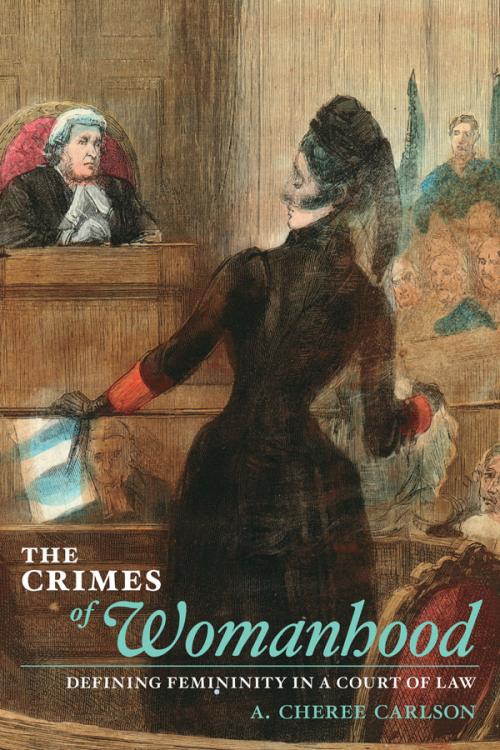 The Crimes of Womanhood
Defining Femininity in a Court of Law
A lively analysis of the scandalous cases of women on trial in turn-of-the-century America
Paper – $27
978-0-252-08002-9
eBook – $19.95
978-0-252-09076-9
Publication Date
Paperback: 01/06/2014
About the Book
Cultural views of femininity exerted a powerful influence on the courtroom arguments used to defend or condemn notable women on trial in nineteenth-century and early-twentieth-century America. By examining the colorful rhetorical strategies employed by lawyers and reporters of women's trials in newspaper articles, trial transcriptions, and popular accounts, A. Cheree Carlson argues that the men in charge of these communication avenues were able to transform their own values and morals into believable narratives that persuaded judges, juries, and the general public of a woman's guilt or innocence.
Carlson analyzes the situations of several women of varying historical stature, from the insanity trials of Mary Todd Lincoln and Lizzie Borden's trial for the brutal slaying of her father and stepmother, to lesser-known trials involving insanity, infidelity, murder, abortion, and interracial marriage. The insanity trial of Elizabeth Parsons Ware Packard, the wife of a minister, resulted from her attempts to change her own religion, while a jury acquitted Mary Harris for killing her married lover, suggesting that loss of virginity to an adulterous man was justifiable grounds for homicide. The popular conception of abortion as a "woman's crime" came to the fore in the case of Ann Loman (also known as Madame Restell), who performed abortions in New York both before and after it became a crime. Finally, Alice Rhinelander was sued for fraud by her new husband Leonard for "passing" as white, but the jury was more moved by the notion of Alice being betrayed as a woman by her litigious husband than by the supposed defrauding of Leonard as a white male. Alice won the case, but the image of womanhood as in need of sympathy and protection won out as well.
At the heart of these cases, Carlson reveals clearly just how narrow was the line that women had to walk, since the same womanly virtues that were expected of them--passivity, frailty, and purity--could be turned against them at any time. These trials of popular status are especially significant because they reflect the attitudes of the broad audience, indicate which forms of knowledge are easily manipulated, and allow us to analyze how the verdict is argued outside the courtroom in the public and press. With gripping retellings and incisive analysis of these scandalous criminal and civil cases, this book will appeal to historians, rhetoricians, feminist researchers, and anyone who enjoys courtroom drama.
About the Author
A. Cheree Carlson is a professor in the School of Letters and Sciences and a faculty affiliate of the women's studies program at Arizona State University.
Reviews
"[An] innovative study. . . . [Carlson's] careful analysis of the impact of these gendered narratives on the outcome of the cases provides a valuable contribution to the discussion of why law fails to embody the gender neutrality it often idealizes. Recommended."--
Choice
"A provocative, well-written, and illuminating work."--
The Journal of American History
"Engaging, informative, and concise accounts of these complicated trials."--
H-Law
"[A] splendid book."--
The Historian
"A clearly written, provocative study of the role of gender norms and stereotypes in the American justice system of the nineteenth century."--
Rhetoric & Public Affairs
---
Blurbs
"This enjoyable and readable book adds significantly to our understanding of the construction and embodiment of gender during the 1860s through the 1920s. A nuanced, complex mosaic of public conversations about gender."--Martha Watson, author of Lives of Their Own: Rhetorical Dimensions in Autobiographies of Women Activists

"Written in a lively style and full of insightful analysis, The Crimes of Womanhood offers an important contribution to rhetorical scholarship. The book will make an excellent addition to courses exploring the intersections of rhetoric, gender, and/or the law in the United States. I look forward to using it."--Sara Hayden, professor of communication studies, University of Montana

"A provocative read. Carlson illustrates the ways that historical legal narratives-- presented as factual, neutral, and objective--were, indeed, highly rhetorical and highly gendered. Her call for a rhetorical reframing of our narratives regarding women, both within the legal realm and outside it, is nothing less than call for expanding our cultural repertoire of the possibilities for successful femininity."--Cindy L. Griffin, coeditor of Feminist Rhetorical Theories: A Reader
---