A Feminist Ethnomusicology
Writings on Music and Gender
The life and work of the trailblazing ethnomusicologist in her own words
Cloth – $110
978-0-252-03849-5
Paper – $32
978-0-252-08007-4
eBook – $19.95
978-0-252-09640-2
Publication Date
Cloth: 05/05/2014
About the Book
One of the pioneers of gender studies in music, Ellen Koskoff edited the foundational text
Women and Music in Cross Cultural Perspective
, and her career evolved in tandem with the emergence and development of the field.
In this intellectual memoir, Koskoff describes her journey through the maze of social history and scholarship related to her work examining the intersection of music and gender. Koskoff collects new, revised, and hard-to-find published material from the mid-1970s through 2010 to trace the evolution of ethnomusicological thinking about women, gender,and music, offering a perspective of how questions emerged and changed in those years, as well as Koskoff's reassessment of the early years and development of the field. Her goal: a personal map of the different paths to understanding she took over the decades, and how each inspired, informed, and clarified her scholarship. For example, Koskoff shows how her preference for face-to-face interactions with living people served her best in her research, and how her now-classic work within Brooklyn's Hasidic community inflamed her feminist consciousness while leading her into ethnomusicological studies.
An uncommon merging of retrospective and rumination, A Feminist Ethnomusicology: Writings on Music and Gender offers a witty and disarmingly frank tour through the formative decades of the field and will be of interest to ethnomusicologists, anthropologists, scholars of the history and development of feminist thought, and those engaged in fieldwork.
Includes a foreword by Suzanne Cusick framing Koskoff's career and an extensive bibliography provided by the author.
About the Author
Ellen Koskoff
is a professor of ethnomusicology at the University of Rochester's Eastman School of Music, director of ethnomusicology programs, and general editor of the Eastman/Rochester Studies in Ethnomusicology series. She is the editor of
Music Cultures in the United States
and author of
Music in Lubavitcher Life.
---
Also by this author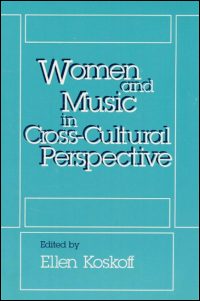 Reviews
"A clear summary of key ideas and pioneering books and presents illuminating descriptions and definitions of central concepts and terms. This book is valuable for its depth and fluent writing. Recommended."--
Choice
"This volume represents 40 years of research and writing by one of the most influential ethnomusicologists in the discipline. . . . One of the characteristic features of this book is the author's voice, captured in a writing style built on a candour that draws the reader into the heart of the narrative. . . . This is a personal (and intellectually rigorous) account-- one filled with hilarious anecdotes, personal misgivings, and candid admissions of doubt. . . . Stylistically accessible while theoretically sophisticated, the book also is suitable for a wider readership interested in feminism, gender studies, and music." --
Ethnomusicology Forum
"An accessible and engaging reflection on the contribution of feminist scholarship to ethnomusicology from the early 1970s to 2012."--
American Anthropologist
"A scholarly book rarely satisfies the academic reviewer fully, as one publication scarcely can cover all relevant ground in its field(s) of research. Ellen Koskoff's 
A Feminist Ethnomusicology
is an inspiring exception: I strongly encourage scholars and students interested in music, anthropology, gender, and feminist scholarship to read it."--
Journal of the Royal Anthropological Institute
"An essential and flagship book to research in ethnomusicology."--
MUSICultures
---
Blurbs
"One of the clearest overviews of the history of feminist and gender studies--in general and in the specific domains of musicology, ethnomusicology, and anthropology--that I have read. The bibliography alone is worth the price of admission."--Margaret Sarkissian, author of D'Albquerque's Children: Performing Tradition in Malaysia's Portuguese Settlement
---