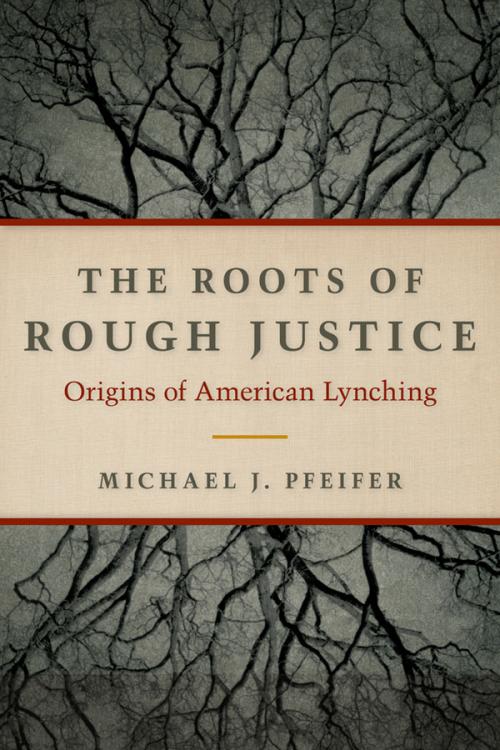 The Roots of Rough Justice
Origins of American Lynching
A social history of the emergence of lynching in America
Paper – $27
978-0-252-08008-1
eBook – $19.95
978-0-252-09309-8
Publication Date
Paperback: 01/27/2014
About the Book
In this deeply researched prequel to his 2006 study
Rough Justice: Lynching and American Society, 1874–1947,
Michael J. Pfeifer analyzes the foundations of lynching in American social history. Scrutinizing the vigilante movements and lynching violence that occurred in the middle decades of the nineteenth century on the Southern, Midwestern, and far Western frontiers,
The Roots of Rough Justice: Origins of American Lynching
offers new insights into collective violence in the pre-Civil War era.
Pfeifer examines the antecedents of American lynching in an early modern Anglo-European folk and legal heritage. He addresses the transformation of ideas and practices of social ordering, law, and collective violence in the American colonies, the early American Republic, and especially the decades before and immediately after the American Civil War. His trenchant and concise analysis anchors the first book to consider the crucial emergence of the practice of lynching slaves in antebellum America. Pfeifer also leads the way in analyzing the history of American lynching in a global context, from the early modern British Atlantic to the legal status of collective violence in contemporary Latin America and sub-Saharan Africa.
Seamlessly melding source material with apt historical examples, The Roots of Rough Justice tackles the emergence not only of the rhetoric surrounding lynching, but of its practice and ideology. Arguing that the origins of lynching cannot be restricted to any particular region, Pfeifer shows how the national and transatlantic context is essential for understanding how whites used mob violence to enforce the racial and class hierarchies across the United States.
Reviews
"Thoughtfully written and adds new levels of complexity by placing lynching in a larger historical and global context."--
The Journal of American History
"Provocative prequel to Michael Pfeifer's important comparative portrait of lynching in America,
Rough Justice
."--
The Annals of Iowa
"Outlines just how barbaric civilizations can be, how barbarism is in fact institutionalized as a putative means of preserving civilization from barbarism."--
Canadian Journal of History
"Pfeifer's keenly focused book builds on work that he did in
Rough Justice: Lynching and American Society, 1874-1947
(Urbana, 2004). He excels in exploring Anglo-American thought and practice regarding extralegal justice from the colonial through the antebellum period."--
The Journal of Southern History
"A must read for anyone interested in lynching and vigilantism, the development of law and criminal justice, and the antebellum period."--
Southern Historian
"It is not hyperbole to assert that Pfeifer guides historians to higher levels of sophistication in scrutinizing the history of American lynching in a global context. . . . Pfeifer stands on solid ground by demonstrating with power and clarity, the persisting racial dimensions of lunching from a comparative perspective. . . . The book is endlessly fresh, unceasingly sharp, and always clear and persuasive."--
Louisiana History
---
Blurbs
"A valuable, thoughtful, concise, and long overdue contribution to the burgeoning scholarship on lynching. Michael J. Pfeifer extends the historical treatment of lynching back in time and ties the history of mob violence to the broad currents of nineteenth-century American history. His work will be foundational to all subsequent scholarship on lynching, both before and after the Civil War."--W. Fitzhugh Brundage, author of Lynching in the New South: Georgia and Virginia, 1880–1930

"Michael J. Pfeifer's research is impressive, covering both an extensive period of time and many geographic regions. The vast majority of work on mob violence takes place after 1880, and there has been a great need for careful scholarship like this on the earlier period."--William D. Carrigan, author of The Making of a Lynching Culture: Violence and Vigilantism in Central Texas, 1836–1916
---