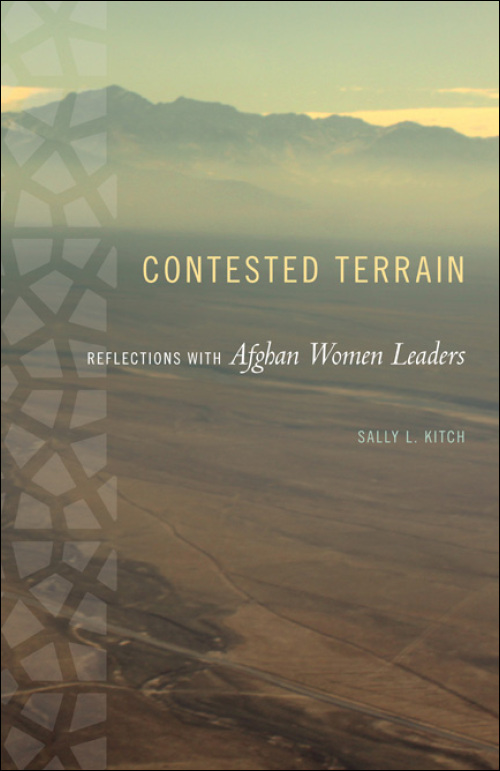 Contested Terrain
Reflections with Afghan Women Leaders
A provocative exploration of women's lives in today's Afghanistan
Cloth – $110
978-0-252-03870-9
Paper – $30
978-0-252-08027-2
eBook – $19.95
978-0-252-09664-8
Publication Date
Cloth: 11/10/2014
About the Book
Sally L. Kitch explores the crisis in contemporary Afghan women's lives by focusing on two remarkable Afghan professional women working on behalf of their Afghan sisters. Kitch's compelling narrative follows the stories of Judge Marzia Basel and Jamila Afghani from 2005 through 2013, providing an oft-ignored perspective on the personal and professional lives of Afghanistan's women. Contending with the complex dynamics of a society both undergoing and resisting change, Basel and Afghani speak candidly--and critically--of matters like international intervention and patriarchal Afghan culture, capturing the ways in which immense possibility alternates and vies with utter hopelessness.Strongly rooted in feminist theory and interdisciplinary historical and geopolitical analysis, Contested Terrain sheds new light on the struggle against the powerful forces that affect Afghan women's education, health, political participation, livelihoods, and quality of life. The book also suggests how a new dialogue might be started in which women from across geopolitical boundaries might find common cause for change and rewrite their collective stories.
About the Author
Sally L. Kitch is Regents' Professor of Women's and Gender Studies and the founding director of the Institute for Humanities Research at Arizona State University. She is the author of The Specter of Sex: Gendered Foundations of Racial Formation in the United States.
Reviews
"A significant contribution to the literature on women in Afghanistan because of its innovative structure as well as its sensitive, intelligent. ethical approach to cross-cultural issues. . . .
Contested Terrain: Reflections with Afghan Women Leaders
not only should be on the reading list of women's studies classes, but it also should be recognized as exemplifying the best in feminist methodology."--
Hypatia
---
Blurbs
"Kitch writes beautifully and in a very engaging manner that draws the reader into the story she is telling. Jamila and Marzia come across as thoughtful and compelling women of great integrity who have devoted themselves to women's rights and national progress."--Valentine Moghadam, author of Globalization and Social Movements: Islamism, Feminism, and the Global Justice Movement

"Presents insights into the lives of . . . urban, educated Afghan women in a way that other books and articles available do not. . . . Kitch's reflections and conclusions are unique and valuable to the conversation about Afghanistan, gender, international intervention, [and] development."--Anne Brodsky, author of With All Our Strength: The Revolutionary Association of the Women of Afghanistan
---