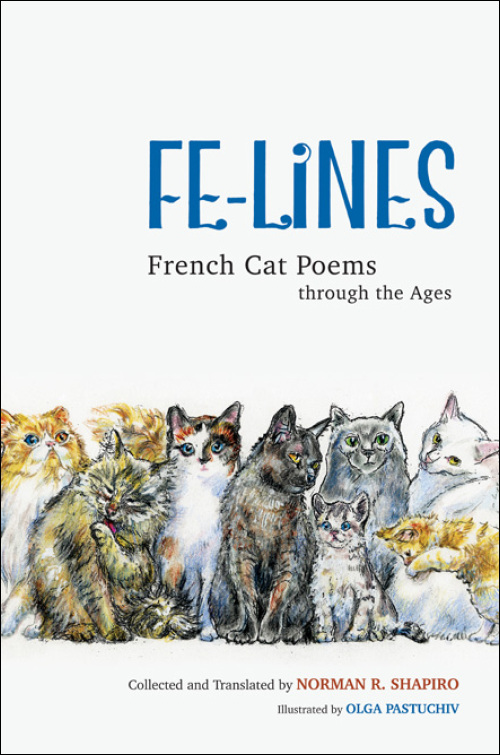 Fe-Lines
French Cat Poems through the Ages
Illustrated by Olga Pastuchiv
Purring the praises of the tiger's household kin
Cloth – $125
978-0-252-03958-4
Paper – $24.95
978-0-252-08109-5
eBook – $14.95
978-0-252-09767-6
Publication Date
Cloth: 11/16/2015
About the Book
The French have long had a love affair with the cat, expressed through centuries of poetry portraying the animal's wit and wonder.
Norman R. Shapiro lionizes the feline's limitless allure in this one-of-a-kind collection. Spanning centuries and styles, he draws on she-cats and toms, and an honor roll of French poets, well known and lesser known, who have served as their devoted champions. He reveals the remarkable range of French cat poems, with most works presented here for the first time in English translation. Scrupulously devoted to evoking the meaning and music of the originals, Shapiro also respects the works' formal structures. Pairing Shapiro's translations with Olga Pastuchiv's elegant illustrations, Fe-Lines guides the reader through the marvels and inscrutabilities of the Mystique féline.
* Publication of this book has been aided by a grant from the Thomas and Catharine McMahon Fund of Wesleyan University, established through the generosity of the late Joseph McMahon.
About the Author
Norman R. Shapiro, translator of French poetry and theater, is Distinguished Professor of Literary Translation at Wesleyan University. As Officier de l'Ordre des Arts et des Lettres de la République Française and member of the Academy of American Poets, he has published numerous award-winning collections, including The Complete Fables of Jean de La Fontaine. Olga Pastuchiv's art enlivens a number of volumes, among them her children's picture book Minas and the Fish.
Reviews
"With beautiful illustrations and poems of every age and form, this book will please everyone (except dog lovers)."--
World Literature Today
---
Blurbs
"Norman Shapiro, a flute, harp, and violoncello of cat song, tells the crafty musical tale of the cat from medieval France until today. Shapiro, at his artistic apogee, created an English masterpiece in his Selected Lyrics of Théophile Gautier. But now with his Fe-Lines, he has invented a new genre, as T. S. Eliot did with Old Possum's Book of Practical Cats. The world is his pen. Who knows where the next Everest awaits him?"--Willis Barnstone, author of Moonbook and Sunbook

"What makes a cat poem appealing to the reader? One of the salient features that I took from Fe-Lines is the constant desire to finish a poem with a 'menschliche Weisheit' (human insight of wisdom) that activates the reader's imagination and keeps the reader inside the movement of the poem. A major contribution to the field of letters and world literature."--Rainer Schulte, author of The Geography of Translation and Interpretation: Traveling between Languages
---