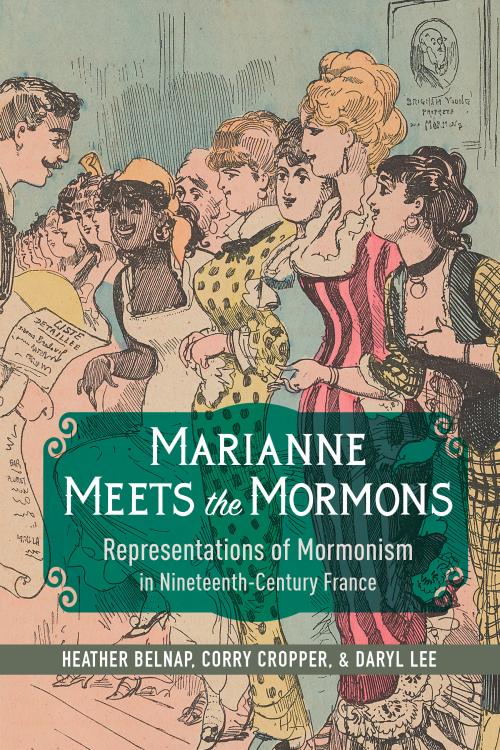 Marianne Meets the Mormons
Representations of Mormonism in Nineteenth-Century France
How the French reimagined Mormonism for their own ends
Cloth – $125
978-0-252-04467-0
Paper – $30
978-0-252-08676-2
eBook – $19.95
978-0-252-05369-6
Publication Date
Paperback: 10/25/2022
Cloth: 10/25/2022
About the Book
In the nineteenth century, a fascination with the Church of Jesus Christ of Latter-day Saints made Mormons and Mormonism a common trope in French journalism, art, literature, politics, and popular culture. Heather Belnap, Corry Cropper, and Daryl Lee bring to light French representations of Mormonism from the 1830s to 1914, arguing that these portrayals often critiqued and parodied French society. Mormonism became a pretext for reconsidering issues such as gender, colonialism, the family, and church-state relations while providing artists and authors with a means for working through the possibilities of their own evolving national identity.
Surprising and innovative, Marianne Meets the Mormons looks at how nineteenth-century French observers engaged with the idea of Mormonism in order to reframe their own cultural preoccupations.
About the Author
Heather Belnap is an associate professor of art history and the European studies coordinator at Brigham Young University, and an editor of Femininity and Public Space in European Visual Culture, 1789–1914. Corry Cropper is a professor of French and associate dean of the College of Humanities at Brigham Young University, and the author of Mormons in Paris: Polygamy on the French Stage 1874–1892. Daryl Lee is a professor of French and chair of the Department of French and Italian at Brigham Young University and the author of numerous articles on late nineteenth-century France, with an emphasis on urban representations in literature and media.
Reviews
---
Blurbs
"Highly original, extremely interesting, and richly documented. The collection analyzed here is remarkable. A book that is superbly satisfying in terms of intellectual stimulation (because of its high erudition and in-depth analysis of how politics will impact cultural products), aesthetic curiosity, and humorous entertainment."--Bernadette Rigal-Cellard, author of La Religion des Mormons
---