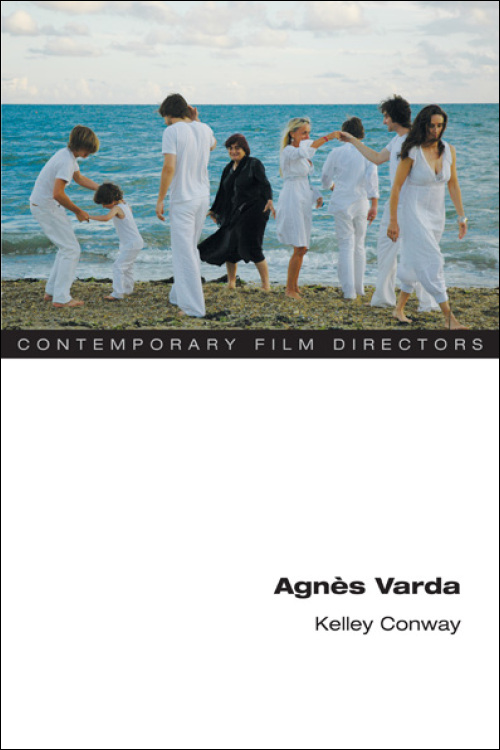 Agnès Varda
An intimate consideration of one of the world's most exuberant and intriguing directors
Cloth – $110
978-0-252-03972-0
Paper – $22
978-0-252-08120-0
eBook – $14.95
978-0-252-09782-9
Publication Date
Cloth: 11/23/2015
About the Book
Both a precursor to and a critical member of the French New Wave, Agnès Varda weaves documentary and fiction into tapestries that portray distinctive places and complex human beings. Critics and aficionados have celebrated Varda's independence and originality since the New Wave touchstone
Cleo from 5 to 7
(1962) brought her a level of international acclaim she has yet to relinquish.
Film historian Kelley Conway traces Varda's works from her 1954 debut La Pointe Courte through a varied career that includes nonfiction and fiction shorts and features, installation art, and the triumphant 2008 documentary The Beaches of Agnès. Drawing on Varda's archives and conversations with the filmmaker, Conway focuses on the concrete details of how Varda makes films: a project's emergence, its development and the shifting forms of its screenplay, the search for financing, and the execution from casting through editing and exhibition. In the process, she departs from film history's traditional view of the French New Wave and reveals one artist's nontraditional trajectory through independent filmmaking. The result is an intimate consideration that reveals the artistic consistencies and bold changes in the career of one of the world's most exuberant and intriguing directors.
About the Author
Kelley Conway is a professor of communication arts at the University of Wisconsin-Madison. She is the author of Chanteuse in the City: The Realist Singer in French Film.
Reviews
"Conway writes in an easy, conversational manner, conveying a good deal of information and numerous insights. . . . Varda remains one of the least-examined figures of the French New Wave, so this book is especially welcome. Highly recommended."--
Choice
"The meticulous archival research, and the author's personal connection to her subject combine to make
Agnès Varda
an engaging, helpful read for scholars, students, and laypersons alike."--
French Review
---
Blurbs
"Let's celebrate the many dimensions of Agnès Varda as one of the greatest artists working today. Conway succeeds in capturing her curiosity, ingenuity, wit, and new storytelling to confirm her status as the indefatigable pioneer of European cinema."--Hans Ulrich Obrist

"Kelley Conway builds upon a vast array of archival research to forge this insightful study of Agnès Varda's distinct approach to filmmaking. Conway concentrates on Varda's experimental production strategies and Varda's engagement with her audience across a truly amazing career."--Richard Neupert, author of A History of the French New Wave Cinema, second edition

"Drawing on privileged access to the filmmaker's archives, Kelley Conway expands our understanding of Agnès Varda in several new and eye-opening ways. Offering welcome insight into Varda's working methods, revisiting the production, distribution and reception of the filmmaker's classics from La Pointe Courte and Cléo de 5 à 7 to Les Plages d'Agnès and her recent multi-media installations, Conway illuminates the astonishingly varied, yet coherent, life-long creative output of one of the key figures in world cinema."--Ginette Vincendeau, coeditor of The French New Wave: Critical Landmarks

"A breakthrough text on Varda's trajectory from photography and film to video, digital media, and installation projects. Conway's pages on the reception of Cleo from 5 to 7 are stunning. Her take on The Gleaners and I, The Widows of Noirmoutier, and The Beaches of Agnès is astute."--Steven Ungar, coauthor of Popular Front Paris and the Poetics of Culture
---