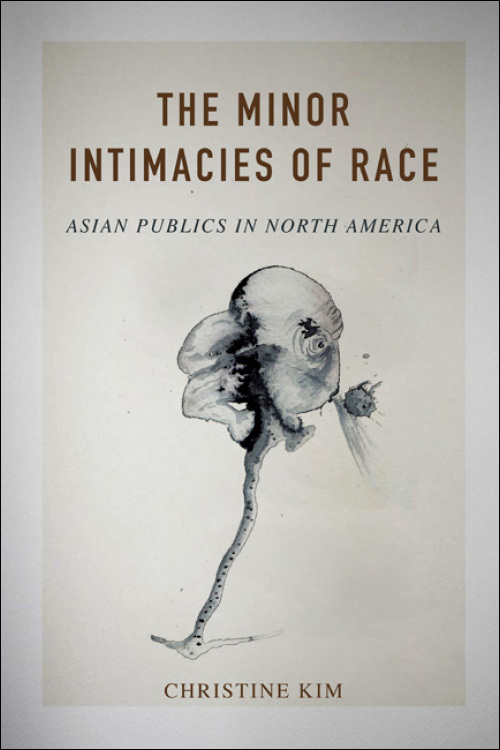 The Minor Intimacies of Race
Asian Publics in North America
Race, emotional states of intimacy, and social publics among Asian Canadians and Asian Americans
Cloth – $110
978-0-252-04013-9
Paper – $30
978-0-252-08162-0
eBook – $19.95
978-0-252-09833-8
Publication Date
Cloth: 04/25/2016
About the Book
An attempt to put an Asian woman on Canada's $100 bill in 2012 unleashed enormous controversy. The racism and xenophobia that answered this symbolic move toward inclusiveness revealed the nation's trumpeted commitment to multiculturalism as a lie. It also showed how multiple minor publics as well as the dominant public responded to the ongoing issue of race in Canada.In this new study, Christine Kim delves into the ways cultural conversations minimize race's relevance even as violent expressions and structural forms of racism continue to occur. Kim turns to literary texts, artistic works, and media debates to highlight the struggles of minor publics with social intimacy. Her insightful engagement with everyday conversations as well as artistic expressions that invoke the figure of the Asian allows Kim to reveal the affective dimensions of racialized publics. It also extends ongoing critical conversations within Asian Canadian and Asian American studies about Orientalism, diasporic memory, racialized citizenship, and migration and human rights.
An original reconsideration of foundational concerns, The Minor Intimacies of Race focuses on the ephemeral and the nuanced to reveal the social hierarchies and power structures inherent in today's North America.
* Publication of this book was supported by a grant from Simon Fraser University
About the Author
Christine Kim is an associate professor of English at Simon Fraser University.
Reviews
"Christine Kim's
The Minor Intimacies of Race
is a necessary and insightful look into the process of defining race and the experience of prejudice. . . . Kim should be applauded for her nuanced and informative approach to a very important topic."--
Ethnic and Racial Studies
---
Blurbs
"A worthwhile discussion of Asian Canadian and Asian American culture and its fraught relationship with the tenets of official multiculturalism. This beautifully captures the registers and modalities of feeling produced in more conventional novels as well as aesthetically experimental works by visual artists and writers."--Josephine Lee, coeditor of Asian American Plays for a New Generation

"Capacious in its method, wide-ranging in scope, and compellingly written, Minor Intimacies of Race offers--in its multifaceted contemplation of the geopolitics of feeling and meditation on multiple publics--a remarkably original and decidedly sophisticated diasporic critique."--Cathy Schlund-Vials, author of Modeling Citizenship, Jewish and Asian American Writing

"Provides an exceptionally generative paradigm for thinking about those forms of collective identification that do not achieve the solidity of fully-fledged political movements but that nonetheless register in illuminating ways the everyday life of race in Asian North America. A fascinating and timely study."--Daniel Kim, author of Writing Manhood in Black and Yellow: Ralph Ellison, Frank Chin and the Literary Politics of Identity

"A refreshing and original focus on the ephemeral and the minor rather than on the grand and universal. Kim offers sophisticated, critically engaged, and smart discussions of current topics in Asian Canadian and Asian American studies."--Eleanor Ty, coeditor of Canadian Literature and Cultural Memory


---