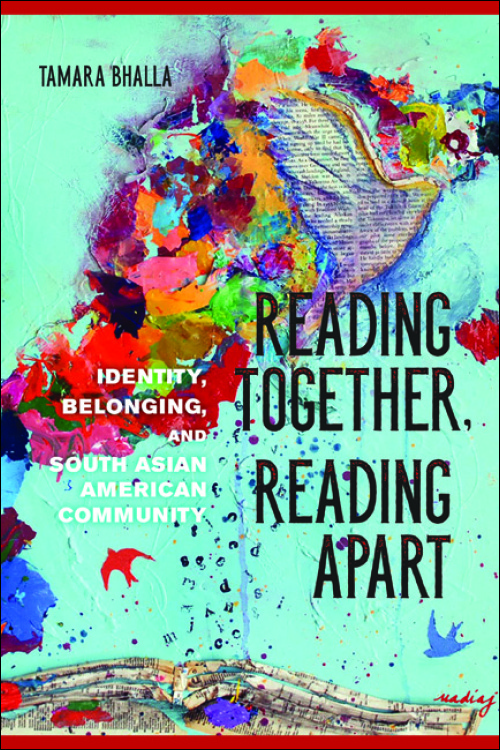 Reading Together, Reading Apart
Identity, Belonging, and South Asian American Community
Discovering authenticity and identity in a book club
Cloth – $110
978-0-252-04048-1
Paper – $26
978-0-252-08195-8
eBook – $19.95
978-0-252-09892-5
Publication Date
Paperback: 11/07/2016
Cloth: 11/07/2016
About the Book
Often thought of as a solitary activity, the practice of reading can in fact encode the complex politics of community formation. Engagement with literary culture represents a particularly integral facet of identity formation--and expresses of a sense of belonging--within the South Asian diaspora in the United States.
Tamara Bhalla blends a case study with literary and textual analysis to illuminate this phenomenon. Her fascinating investigation considers institutions from literary reviews to the marketplace to social media and other technologies, as well as traditional forms of literary discussion like book clubs and academic criticism. Throughout, Bhalla questions how her subjects' circumstances, desires, and shared race and class, limit the values they ascribe to reading. She also examines how ideology circulating around a body of literature or a self-selected, imagined community of readers shapes reading itself and influences South Asians' powerful, if contradictory, relationship with ideals of cultural authenticity.
Insightful and provocative, Reading Together, Reading Apart builds on practical fieldwork coupled with theoretical precision to reveal the surprising complexity of reading as a social practice.
About the Author
Tamara Bhalla is an assistant professor of American studies at the University of Maryland, Baltimore County.
Reviews
"Bhalla ultimately elucidates an affirmative potentiality from which elite tradition (in this case, literary production) encounters quotidian praxis and produces new forms of collective belonging."--
Journal of Asian American Studies
---
Blurbs
"Bhalla offers a multilayered, interdisciplinary treatment on the possibilities (and limitations) involved in both the act of reading and the formation of ethnic identities. This thoughtful and thought-provoking book deserves its own reading club."--Pawan Dhingra, author of Life Behind the Lobby: Indian American Motel Owners and the American Dream

"Bhalla's nuanced, sensitive analysis illuminates how nonacademic readers grapple with issues of authenticity, class, and gender as they engage with transnational South Asian literature. This rigorously-researched book significantly enhances discussions of the consumption and marketing of ethnic literatures and identities."--Megan Sweeney, editor of The Story Within Us: Women Prisoners Reflect on Reading
---