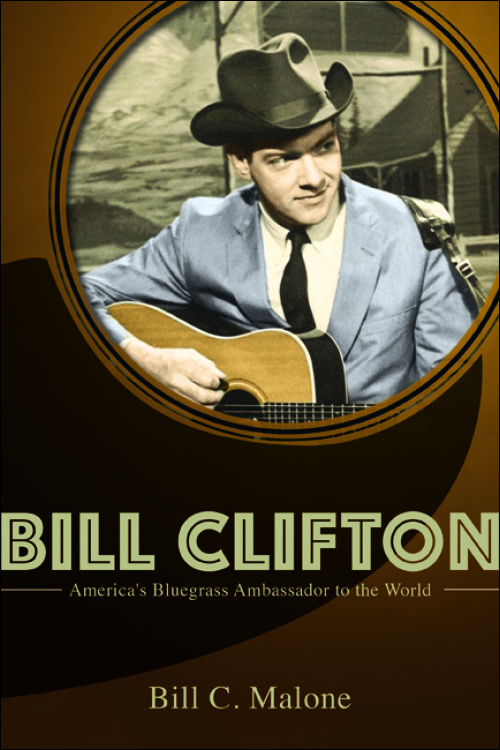 Bill Clifton
America's Bluegrass Ambassador to the World
Pioneer, pathfinder, and proponent--the journey of an unlikely bluegrass icon
Cloth – $110
978-0-252-04053-5
Paper – $19.95
978-0-252-08200-9
eBook – $14.95
978-0-252-09897-0
Publication Date
Cloth: 10/17/2016
About the Book
The most atypical of bluegrass artists, Bill Clifton has enjoyed a long career as a recording artist, performer, and champion of old-time music. Bill C. Malone pens the story of Clifton's eclectic life and influential career.
Born into a prominent Maryland family, Clifton connected with old-time music as a boy. Clifton made records around earning a Master's degree, fifteen years in the British folk scene, and stints in the Peace Corps and Marines. Yet that was just the beginning. Closely allied with the Carter Family, Woody Guthrie, Mike Seeger, and others, Clifton altered our very perceptions of the music--organizing one of the first outdoor bluegrass festivals, publishing a book of folk and gospel standards that became a cornerstone of the folk revival, and introducing both traditional and progressive bluegrass around the world. As Malone shows, Clifton clothed the music of working-class people in the vestments of romance, celebrating the log cabin as a refuge from modernism that rang with the timeless music of Appalachia.
An entertaining account by an eminent music historian, Bill Clifton clarifies the myths and illuminates the paradoxes of an amazing musical life.
* Publication of this book was supported by a grant from the L. J. and Mary C. Skaggs Folklore Fund.
Reviews
"[
Bill Clifton
] is very enlightening regarding the career of an important figure in the popularization and spreading of a more urbane and less localized bluegrass music."--
Ted Lehmann's Bluegrass, Books, and Brainstorms
"A definitive and engaging work. . . . This book is full of the kind of nuance and detail that only a longtime scholar and enthusiast could produce."--
ARSC Journal
"A great read into one of our wonderful musical influences." --
Bluegrass Unlimited
---
Blurbs
"Extremely stimulating. Clifton's early life, interests, and talents led him into many dramatic situations, which are masterfully described in Malone's biography. Bill Clifton made a wise choice in tapping Malone as his biographer."--Fred Bartenstein, editor of Bluegrass Bluesman: A Memoir

"A marvelous and wide-ranging biography of Bill Clifton by Bill Malone, the acknowledged dean of country music historians. Malone has added rich detail to our understanding of Clifton's musical context, particularly in bluegrass."--Ronald D. Cohen, co-author of Roots of the Revival: American and British Folk Music in the 1950s
---