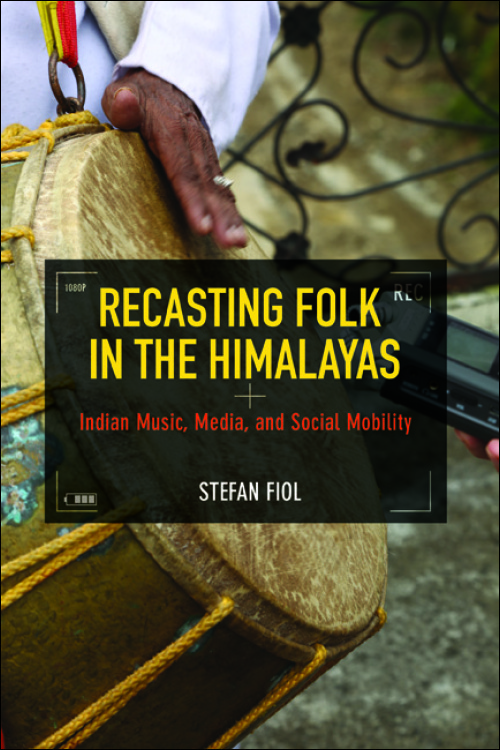 Recasting Folk in the Himalayas
Indian Music, Media, and Social Mobility
The clash of music and the modern world in an emerging Indian state
Cloth – $110
978-0-252-04120-4
Paper – $25
978-0-252-08275-7
eBook – $19.95
978-0-252-09978-6
Publication Date
Paperback: 10/02/2017
Cloth: 10/02/2017
About the Book
Colonialist, nationalist, and regionalist ideologies have profoundly influenced folk music and related musical practices among the Garhwali and Kumaoni of Uttarakhand. Stefan Fiol blends historical and ethnographic approaches to unlock these influences and explore a paradox: how the "folk" designation can alternately identify a universal stage of humanity, or denote alterity and subordination.
Fiol explores the lives and work of Gahrwali artists who produce folk music. These musicians create art as both a discursive idea and a set of expressive practices across strikingly different historical and cultural settings. Juxtaposing performance contexts in Himalayan villages with Delhi recording studios, Fiol shows how the practices have emerged within and between sites of contrasting values and expectations. Throughout, he presents the varying perspectives and complex lives of the upper-caste, upper-class, male performers spearheading the processes of folklorization. But he also charts their resonance with, and collision against, the perspectives of the women and hereditary musicians most affected by the processes.
Expertly observed, Recasting Folk in the Himalayas offers an engaging immersion in a little-studied musical milieu.
* Publication of this book is supported by grants from the Andrew W. Mellon Foundation; the AMS 75 PAYS Endowment of the American Musicological Society, funded in part by the National Endowment for the Humanities and the Andrew W. Mellon Foundation; and the L. J. and Mary C. Skaggs Folklore Fund.
About the Author
Stefan Fiol is an associate professor of ethnomusicology at the University of Cincinnati.
Reviews
"Recommended."--
Choice
"
Recasting Folk
provides an ethnographically rich account of a range of performers and the social dynamics of making a living, particularly in a music industry that continues to be plagued by caste politics." --
Ethnomusicology Forum
---
Blurbs
"Wonderfully engaging and engaged, this ethnography and history moves us between the microcosm of once remote central Himalayan communities, and the macrocosm of cosmopolitan musical transformations. Recasting Folk helps us deeply understand questions of contingency, authenticity, identity, and economy and the ideas of folk music and Indian civilization through the reflexive lens of musical value and the refractive prism of its production."—Daniel M. Neuman, coauthor of Bards, Ballads and Boundaries: An Ethnographic Atlas of Musical Cultures in West Rajasthan

"A deep, detailed exploration of local musicians' engagement with modernity and media and the construction of 'folk' music in the Indian Himalayan state of Uttarakhand. Rather than take the idea of 'folk' as an unexamined given or reject it altogether, Fiol seeks to understand it as a discourse within the history of postindependence India and Uttarakhand, offering a framework for thinking about other regional music cultures in modern India."—Carol Babiracki, Syracuse University
---