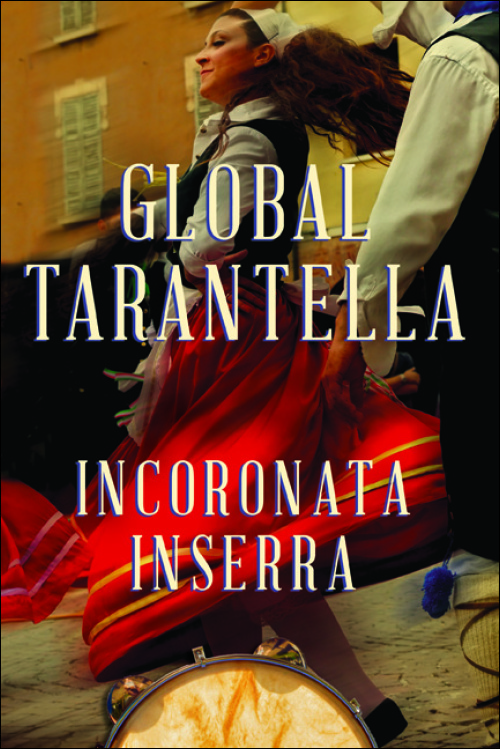 Global Tarantella
Reinventing Southern Italian Folk Music and Dances
How tarantella beguiled the world, and what happened next
Cloth – $110
978-0-252-04129-7
Paper – $25
978-0-252-08283-2
eBook – $19.95
978-0-252-09989-2
Publication Date
Paperback: 10/30/2017
Cloth: 10/30/2017
About the Book
Tarantella, a genre of southern Italian folk music and dance, is an international phenomenon--seen and heard in popular festivals, performed across the Italian diaspora, even adapted for New Age spiritual practices. The boom in popularity has diversified tarantella in practice while setting it within a host of new, unexpected contexts.
Incoronata Inserra ventures into the history, global circulation, and recontextualization of this fascinating genre. Examining tarantella's changing image and role among Italians and Italian Americans, Inserra illuminates how factors like tourism, translation, and world music venues have shifted the ethics of place embedded in the tarantella cultural tradition. Once rural, religious, and rooted, tarantella now thrives in settings urban, secular, migrant, and ethnic. Inserra reveals how the genre's changing dynamics contribute to reimagining southern Italian identity. At the same time, they translate tarantella into a different kind of performance that serves new social and cultural groups and purposes. Indeed, as Inserra shows, tarantella's global growth promotes a reassessment of gender relations in the Italian South and helps create space for Italian and Italian American women to reclaim gendered aspects of the genre.
* Publication of this book was supported by grants from the Andrew W. Mellon Foundation and the L. J. and Mary C. Skaggs Folklore Fund.
About the Author
Incoronata Inserra is an assistant professor at Virginia Commonwealth University.
Reviews
"An invitation to appreciate the multiple outcomes of the recontextualized tarantella, Inserra's work explores new aesthetic and authorities related to this folk tradition.
Global Tarantella
is a rare publication in the English language that addresses this fascinating and complex cultural phenomenon of Southern Italy." --
Journal of American Folklore
"Against a complicated history of Italian folk music and its recovery, Inserra provides an insightful account of tarantella in its home region of Campania and in its migration throughout and outside Italy, intertwining her fieldwork with existing scholarship." --
Italian American Review
---
Blurbs
"Gratifying to read. Makes a significant contribution--finally, in the English language, where few studies have been previously available--to the study of this rich, diverse, and globally relevant music phenomenon."--Luisa Del Giudice, coauthor of Performing Ecstasies: Music, Dance, and Ritual in the Mediterranean

"Enhances our understanding of southern Italian music and dance while also refining our general models of folklore revival. The book shows how musicians graft their performances onto ever-shifting contexts of reception among mobile Italian and international audiences. It richly demonstrates that local perspectives on musical tradition are every bit as tricky as global ones."--Dorothy Noyes, author of Humble Theory: Folklore's Grasp on Social Life
---