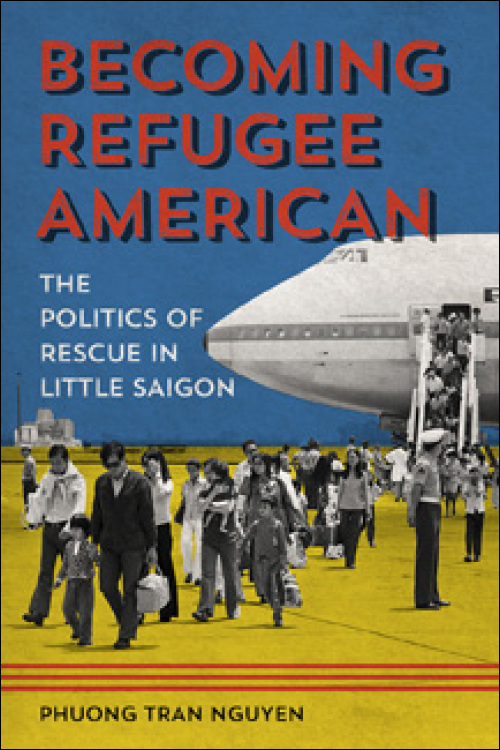 Becoming Refugee American
The Politics of Rescue in Little Saigon
How gratitude and longing forged a new kind of American
Cloth – $110
978-0-252-04135-8
Paper – $28
978-0-252-08288-7
eBook – $19.95
978-0-252-09995-3
Publication Date
Paperback: 10/30/2017
Cloth: 10/30/2017
About the Book
Vietnamese refugees fleeing the fall of South Vietnam faced a paradox. The same guilt-ridden America that only reluctantly accepted them expected, and rewarded, expressions of gratitude for their rescue. Meanwhile, their status as refugees—as opposed to willing immigrants—profoundly influenced their cultural identity.
Phuong Tran Nguyen examines the phenomenon of refugee nationalism among Vietnamese Americans in Southern California. Here, the residents of Little Saigon keep alive nostalgia for the old regime and, by extension, their claim to a lost statehood. Their refugee nationalism is less a refusal to assimilate than a mode of becoming, in essence, a distinct group of refugee Americans. Nguyen examines the factors that encouraged them to adopt this identity. His analysis also moves beyond the familiar rescue narrative to chart the intimate yet contentious relationship these Vietnamese Americans have with their adopted homeland. Nguyen sets their plight within the context of the Cold War, an era when Americans sought to atone for broken promises but also saw themselves as providing a sanctuary for people everywhere fleeing communism.
About the Author
Phuong Tran Nguyen was born in Vietnam and migrated to the United States a few years after the Vietnam War. He is an assistant professor of history at California State University, Monterey Bay.
Reviews
"Nguyen offers a bold yet nuanced analysis of Vietnamese refugee experiences in the US. . . . Highly recommended."--
Choice
"In
Becoming Refugee American
Phuong Tran Nguyen offers a timely and critical analysis of the history of Vietnamese refugees in the United States." --
H-Asia
"Effectively illustrates the multifaceted challenges confronted by Vietnamese refugees who become part of the politics of rescue." --
Western Historical Quarterly
"
Becoming Refugee American
is an ideal work to understand both the particular experiences of Vietnamese peoples in the United States and the broader implication of refugeeism." --
The Journal of American History
"Overall,
Becoming Refugee American
is an excellent and welcome addition to the growing scholarship on the Vietnamese American experience. The historical research and methodology devoted to writing this text give it a nuanced perspective." --
American Historical Review
"The book was lucidly written and meticulously documented. For this postwar-born Vietnamese American reviewer, the sensitive portrayal of rescue politics rang true and inspired sympathy for an older generation whose Refugee Americanness reflected grief and need as much as culture or ideology." --
International Migration Review
"Nguyen develops the concept of refugee nationalism to account for the complex affective lives of diasporic Vietnamese, whose loyalty to their lost nation, the Republic of Vietnam, is entangled in, and yet is also distinct from, their attachment to and gratitude for the US. . . .
Becoming Refugee American
is a book that shows the necessity of historicizing a fuller range of emotions." --
Pacific Affairs
---
Blurbs
"This is the history that Vietnamese Americans and those who study them have been waiting for, a terrific account of how Vietnamese refugees came to the United States and founded their own Little Saigon. Phuong Nguyen's clarifying, enjoyable account provides a persuasive framework of 'refugee nationalism' for understanding how these newcomers turned themselves into Americans."--Viet Thanh Nguyen, author of Nothing Ever Dies: Vietnam and the Memory of War

"The refugee world of Little Saigon now has its historian. Phuong Tran Nguyen's brave and highly original book tells the intriguing story of how tens of thousands of Vietnamese became American; and anyone interested in the domestic legacy of America's war in Indochina or its recent wars and military engagements in the Middle East should be listening."--Lon Kurashige, author of Japanese American Celebration and Conflict: A History of Ethnic Identity and Festival, 1934-1990
---