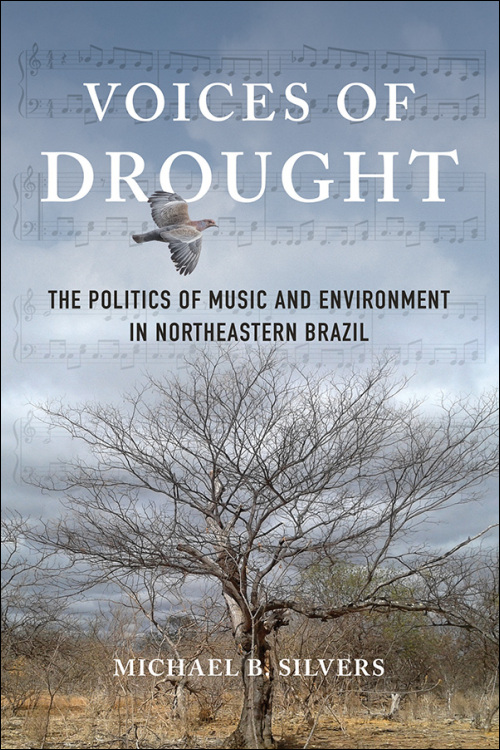 Voices of Drought
The Politics of Music and Environment in Northeastern Brazil
How an environment creates popular music, and vice versa
Cloth – $110
978-0-252-04208-9
Paper – $28
978-0-252-08377-8
eBook – $19.95
978-0-252-05083-1
Publication Date
Paperback: 10/29/2018
Cloth: 10/29/2018
About the Book
In
Voices of Drought
, Michael B. Silvers proposes a scholarship focused on environmental justice to understand key questions in the study of music and the environment. His ecomusicological perspective offers a fascinating approach to events in Ceará, a northeastern Brazilian state affected by devastating droughts. These crises have a profound impact on social difference and stratification, and thus on
forro
music in the
sertão
(backlands) of the region. At the same time, the complex interactions of popular music and social conditions also help create the environment.
Silvers offers case studies focused on the sertão that range from the Brazilian wax harvested in Ceará for use in early wax cylinder sound recordings to the drought- and austerity-related cancellation of Carnival celebrations in 2014-16. Unearthing links between music and the environmental and social costs of drought, his daring synthesis explores ecological exile, poverty, and unequal access to water resources alongside issues like corruption, prejudice, unbridled capitalism, and expanding neoliberalism.
* Publication of this book is supported by the Dragan Plamenac Endowment of the American Musicological Society, funded in part by the National Endowment for the Humanities and the Andrew W. Mellon Foundation, and by a grant from the University of Illinois at Urbana-Champaign College of Fine and Applied Arts.
About the Author
Michael B. Silvers is an assistant professor of musicology at the University of Illinois at Urbana-Champaign.
Reviews
---
Blurbs
"This unique and timely work offers an important contribution to our understanding of how music and ecology are linked."--Jennifer C. Post, editor of Ethnomusicology: A Contemporary Reader, Volume II
---