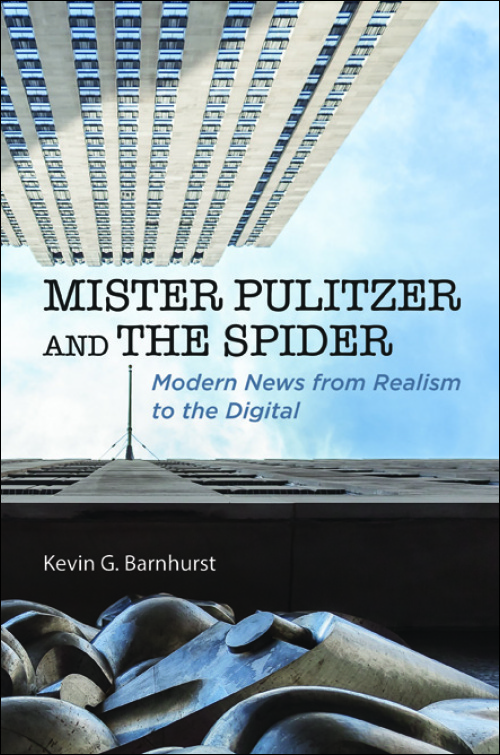 Mister Pulitzer and the Spider
Modern News from Realism to the Digital
Changes in news ideology from nineteenth-century realism to digital society
Cloth – $34.95
978-0-252-04018-4
Paper – $24.95
978-0-252-08391-4
eBook – $14.95
978-0-252-09840-6
Publication Date
Paperback: 09/03/2018
Cloth: 08/08/2016
About the Book
A spidery network of mobile online media has supposedly changed people, places, time, and their meanings. A prime case is the news. Digital webs seem to have trapped "legacy media," killing off newspapers and journalists' jobs. Did news businesses and careers fall prey to the digital "Spider"?
To solve the mystery, Kevin Barnhurst spent thirty years studying news going back to the realism of the 1800s. The usual suspects--technology, business competition, and the pursuit of scoops--are only partly to blame for the fate of news. The main culprit is modernism from the "Mister Pulitzer" era, which transformed news into an ideology called "journalism." News is no longer what audiences or experts imagine. Stories have grown much longer over the past century and now include fewer events, locations, and human beings. Background and context rule instead.
News producers adopted modernism to explain the world without recognizing how modernist ideas influence the knowledge they produce. When webs of networked connectivity sparked a resurgence in realist stories, legacy news stuck to big-picture analysis that can alienate audience members accustomed to digital briefs.
Combining social science, cultural studies, and real conversations, Barnhurst tells the history of an American idea: that modern knowledge can be commanding and democratic at the same time. Mister Pulitzer and the Spider weaves storytelling and graphics with down-to-earth writing in a groundbreaking account of past change and future promise in American thought.
* to press with a grant, fairplayFigure Foundation
About the Author
Kevin G. Barnhurst was Chair of Communication in the Digital Era at the University of Leeds and professor emeritus at the University of Illinois at Chicago. His books include Seeing the Newspaper, The Form of News: A History, and Media Queered: Visibility and Its Discontents.
Reviews
"Ambitious and fascinating. . . . A worthy invitation to further research and discussion about the role of journalism in society."--
International Journal of Communication
"Barnhurst's focus on the forms of news across media in the last century and this one is welcome and fresh. It is closely argued, often subtle and always interesting in its overall hypotheses. . . . It is thoughtful, seasoned and intellectually ambitious work." --
Media History
"Kevin Barnhurst's
Mister Pulitzer and the Spider
successfully interweaves two distinct threads of exposition and narrative, with both contributing to why this book merits serious attention and informed appreciation from multiple sets of readers." --
Journal of Communication
---
Blurbs
"Everyone has a theory about what's gone wrong with the news business. Kevin Barnhurst's explanation is original, elegantly presented, and potentially useful both to journalists and to citizens trying to decide which version of the news is worth paying attention to."--James Fallows, author of Breaking the News: How the Media Undermine American Democracy

"With unparalleled scholarly precision spanning more than 200 years, Kevin Barnhurst chronicles the tumultuous evolution and revolution of news--how it's created and consumed. Through his panoramic lens, Barnhurst reveals a macro and micro focus on why today's newspapers are thinner, broadcast sound-bites shorter, and news often skeletal on the facts, the result of technology developing shorter attention spans. Spoiler alert, Mister Pulitzer and the Spider leaves us with a glimmer of hope."--Roberta Baskin, award-winning investigative journalist

"Over the years, I've found few scholars whose work is as original, insightful, or readable as Kevin Barnhurst's. Mister Pulitzer and the Spider exceeds even that lofty expectation. Barnhurst's story of how the hierarchy and meaning of reporters' five Ws have changed since the late 1800s explains more fully how the news has shaped society, and been shaped by it, than any book I've read. If your nightstand, classroom, or personal library has room for only one book on journalism, make it this one."--Thomas E. Patterson, author of Informing the News: The Need for Knowledge-Based Journalism

"Kevin Barnhurst's methodical analysis of the forms in which journalistic expression has developed deserves study by anyone interested in public knowledge in an age of expanding communication technology."--Bill Kovach, co-author of The Elements of Journalism: What Newspeople Should Know and the Public Should Expect

"Kevin Barnhurst's tour of a century of American news draws on an imaginative blend of empirical content analysis and cultural criticism. Mister Pulitzer and the Spider explores how news evolved from the realism of storytelling to the modernism of interpretation and is full of interesting surprises for anyone who cares about the future of journalism in the Internet age."--David Nord, author of Communities of Journalism: A History of American Newspapers and Their Readers

"Far-reaching in its scope and provocative in its claims, this is a work of brilliant originality."--Stephen Coleman, co-author of The Media and the Public: "Them" and "Us" in Media Discourse
---