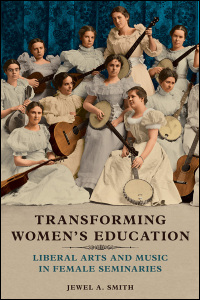 Transforming Women's Education
Liberal Arts and Music in Female Seminaries
Groundbreaking schools at the forefront of musical and educational change
Cloth – $110
978-0-252-04224-9
Paper – $28
978-0-252-08400-3
eBook – $19.95
978-0-252-05107-4
Publication Date
Paperback: 02/11/2019
Cloth: 02/11/2019
About the Book
Female seminaries in the nineteenth-century United States offered middle-class women the rare privilege of training in music and the liberal arts. A music background in particular provided the foundation for a teaching career, one of the few paths open to women.
Jewel A. Smith opens the doors of four female seminaries, revealing a milieu where rigorous training focused on music as an artistic pursuit rather than a social skill. Drawing on previously untapped archives, Smith charts women's musical experiences and training as well as the curricula and instruction available to them, the repertoire they mastered, and the philosophies undergirding their education. She also examines the complex tensions between the ideals of a young democracy and a deeply gendered system of education and professional advancement.
An in-depth study of female seminaries as major institutions of learning, Transforming Women's Education illuminates how musical training added to women's lives and how their artistic acumen contributed to American society.
* Open Access Edition funded by the National Endowment for the Humanities.
About the Author
Jewel A. Smith serves on the musicology faculty at the University of Cincinnati's College-Conservatory of Music. She is the author of Music, Women, and Pianos in Antebellum Bethlehem Pennsylvania: The Moravian Young Ladies' Seminary.
Reviews
"Ultimately,
Transforming Women's Education
asks provocative questions about the social construction of women in nineteenth century. It is a well-balanced institutional history that should have broad appeal across multiple historical subfields." --
Journal of Historical Research in Music Education
---
Blurbs
"Transforming Women's Education will itself transform our understanding of nineteenth-century musical life in the United States. By examining music's role in four newly established institutions of higher learning, author Jewel Smith 'lifts the veil' on women's participation in the nation's developing musical culture. This book is the first systematic study of musical activities at the pioneering female seminaries and academies, the antecedents of modern women's and co-educational colleges. Through careful documentation of practices at Emma Willard's school, Mt. Holyoke, Litchfield Academy, and Music Vale Seminary—the nations' first conservatory—Smith traces music's evolution from a diversion and signifier of social status to its serious pursuit as a science and an art. Valuable empirical findings on the educators, students, curricula, repertory, and functions of music-making in this era are presented concisely. Engagingly written and superbly researched, this book represents a significant contribution to our knowledge of women's active role in the era's musical life."--Nancy Newman, author of Good Music for a Free People: The Germania Musical Society in Nineteenth-Century America

"Jewel Smith has brilliantly illuminated an era in American educational history that was hitherto shrouded in darkness. Her assiduous research demonstrates the vital role played by female academies in the development of American democratic society and confirms the crucial place of music in these institutions."--E. Douglas Bomberger, author of Making Music American: 1917 and the Transformation of Culture
---