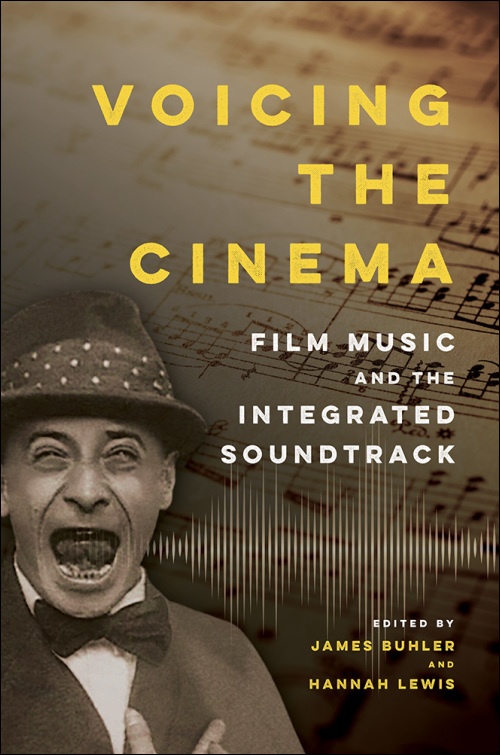 Voicing the Cinema
Film Music and the Integrated Soundtrack
Daring new ideas on what we hear at the movies
Cloth – $125
978-0-252-04300-0
Paper – $30
978-0-252-08486-7
eBook – $19.95
978-0-252-05186-9
Publication Date
Paperback: 03/23/2020
Cloth: 03/23/2020
About the Book
Theorists of the soundtrack have helped us understand how the voice and music in the cinema impact a spectator's experience. James Buhler and Hannah Lewis edit in-depth essays from many of film music's most influential scholars in order to explore fascinating issues around vococentrism, the voice in cinema, and music's role in the integrated soundtrack.
The collection is divided into four sections. The first explores historical approaches to technology in the silent film, French cinema during the transition era, the films of the so-called New Hollywood, and the post-production sound business. The second investigates the practice of the singing voice in diverse repertories such as Bergman's films, Eighties teen films, and girls' voices in Brave and Frozen. The third considers the auteuristic voice of the soundtrack in works by Kurosawa, Weir, and others. A last section on narrative and vococentrism moves from The Martian and horror film to the importance of background music and the state of the soundtrack at the end of vococentrism.
Contributors: Julie Brown, James Buhler, Marcia Citron, Eric Dienstfrey, Erik Heine, Julie Hubbert, Hannah Lewis, Brooke McCorkle, Cari McDonnell, David Neumeyer, Nathan Platte, Katie Quanz, Jeff Smith, Janet Staiger, and Robynn Stilwell
About the Author
James Buhler is a professor of music theory at the University of Texas at Austin. He is the author of Theories of the Soundtrack and a coauthor of Hearing the Movies: Music and Sound in Film History. Hannah Lewis is an assistant professor of musicology at the University of Texas at Austin. She is the author of French Musical Culture and the Coming of Sound Cinema.
Reviews
"The book will intrigue those interested in voice and film studies and the various ways the singing voice can be used to advantage in cinema." --
Choice
---
Blurbs
"Including works by many of film music's finest scholars, the diversity of articles and approaches here is most welcome. Some pieces will prove to be real game-changers, beautifully written and argued."--Caryl Flinn, author of Brass Diva: The Life and Legends of Ethel Merman

"Valuable new essays on the ways cinema speaks, sings, shouts, and whispers."--Claudia Gorbman, author of Unheard Melodies: Narrative Film Music
---