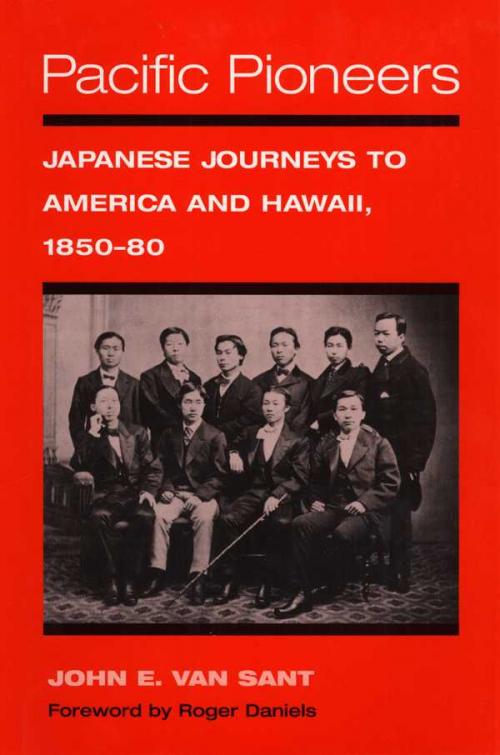 Pacific Pioneers
Japanese Journeys to America and Hawaii, 1850-80
The lives and struggles of early Japanese settlers in Hawaii and the United States
Cloth – $41
978-0-252-02560-0
Paper – $25
978-0-252-08490-4
eBook – $14.95
978-0-252-05195-1
Publication Date
Paperback: 06/24/2019
About the Book
Shipwrecked sailors, samurai seeking material and sometimes spiritual education, and laborers looking to better their economic situation—
Pacific Pioneers
presents detailed biographical sketches of these early Japanese travelers to the United States and Hawaii and the Westerners who influenced their experiences.
Although Japanese immigrants did not start arriving substantially in the West until after 1880, key encounters in the thirty years prior helped shape relations between Japan and the United States. Pacific Pioneers explores the motivations and accomplishments of resourceful, visionary individuals who made important interventions in a culture quite different from their own and paved the way for the Issei and Nisei. Additionally, Van Sant examines uneasy relations between Japanese laborers and sugar cane magnates and looks at the short-lived Wakamatsu colony of Japanese tea and silk producers.
Vivid and perceptive, Pacific Pioneers brings to life a cast of vibrant, long-forgotten characters while forging a critical link between Asian and Asian American studies.
About the Author
John E. Van Sant is an associate professor in the Department of History at the University of Alabama at Birmingham. He is a coeditor of Far East, Down South: Asians in the American South.
Reviews
"This excellent study of the first Japanese sojourners to America and Hawaii places them within the context of national developments on both sides of the Pacific. . . . Van Sant wonderfully narrates and analyzes their engaging stories, those of ship-wrecked sailors, college students, workers, and even some utopians."--
Choice
"Van Sant has the language skills to do archival work, coupled with a solid grasp of Japanese history. He has produced a small but important work."--Paul Spickard,
American Historical Review
"A solid, well-written study. Featuring splendid biographical profiles, it provides excellent insight into Japan's modernization and the origins of Japanese immigration to the United States."--Robert D. Parmet,
International Migration Review
---
Blurbs
"This well-written and skillful blend of Japanese and Japanese American history fills a gap in our understanding of the formation of the Nikkei community in the United States. It provides us with a new appreciation of these early pioneers and their impact on both Japan and the United States."--Wayne Patterson, Harvard University
---