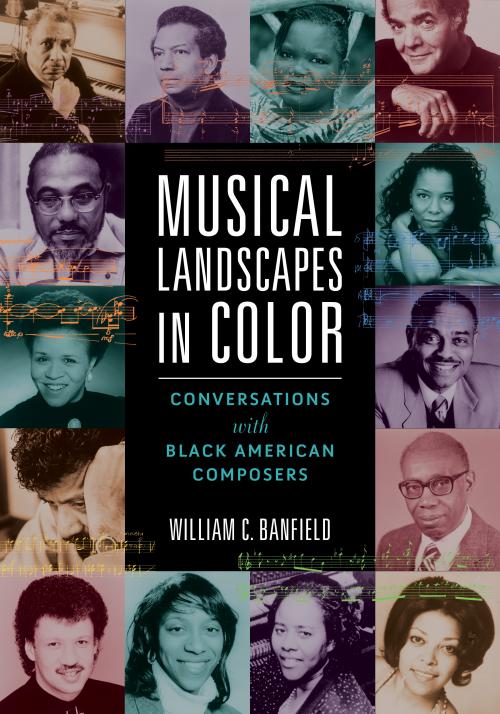 Musical Landscapes in Color
Conversations with Black American Composers
Black composers in their own words
Cloth – $125
978-0-252-04482-3
Paper – $29.95
978-0-252-08691-5
eBook – $14.95
978-0-252-05456-3
Publication Date
Paperback: 02/21/2023
Cloth: 02/21/2023
About the Book
Now available in paperback, William C. Banfield's acclaimed collection of interviews delves into the lives and work of forty-one Black composers. Each of the profiled artists offers a candid self-portrait that explores areas from training and compositional techniques to working in an exclusive canon that has existed for a very long time. At the same time, Banfield draws on sociology, Western concepts of art and taste, and vernacular musical forms like blues and jazz to provide a frame for the artists' achievements and help to illuminate the ongoing progress and struggles against industry barriers. Expanded illustrations and a new preface by the author provide invaluable added context, making this new edition an essential companion for anyone interested in Black composers or contemporary classical music.
Composers featured: Michael Abels, H. Leslie Adams, Lettie Beckon Alston, Thomas J. Anderson, Dwight Andrews, Regina Harris Baiocchi, David Baker, William C. Banfield, Ysaye Maria Barnwell, Billy Childs, Noel DaCosta, Anthony Davis, George Duke, Leslie Dunner, Donal Fox, Adolphus Hailstork, Jester Hairston, Herbie Hancock, Jonathan Holland, Anthony Kelley, Wendell Logan, Bobby McFerrin, Dorothy Rudd Moore, Jeffrey Mumford, Gary Powell Nash, Stephen Newby, Coleridge-Taylor Perkinson, Michael Powell, Patrice Rushen, George Russell, Kevin Scott, Evelyn Simpson-Curenton, Hale Smith, Billy Taylor, Frederick C. Tillis, George Walker, James Kimo Williams, Julius Williams, Tony Williams, Olly Wilson, and Michael Woods
* Publication supported by a grant from the Henry and Edna Binkele Classical Music Fund
About the Author
William C. Banfield is a composer, jazz performer, and professor emeritus and the founding director of the Africana Studies Center at the Berklee College of Music. His books include Cultural Codes: Makings of a Black Music Philosophy and Black Notes: Essays of a Musician Writing in a Post-Album Age.
Reviews
"A valuable guide to the repertoire."--Times Union

"While some composers are familiar (including Herbie Hancock and Bobby McFerrin), the overwhelming impression is how many unsung Black composers have contributed so much pleasure to music lovers. It's abundantly clear their work has enriched and expanded the world's musical palette. . . . A book that should be in every music lover's library." --Library Journal, Starred Review

"Traversing a richly diverse gamut of Black culture and heritage across classical and jazz-- which many here agree is in effect 'the classical music of America'—the crucial contribution of Black composers in and far beyond the US becomes clear. Wise, moving, and thought-provoking, it's a timely reiteration of the continued need for their wider acknowledgment." --BBC Music Magazine

"If you are intrigued by the mystery of artistic creativity, this is your book. If you want to know where these musicians believe they stand among their white peers, read on. If you are curious about how non-commercial composers and performers thrive or survive in our warped economy, there is much here to consider." --On the Seawall
---