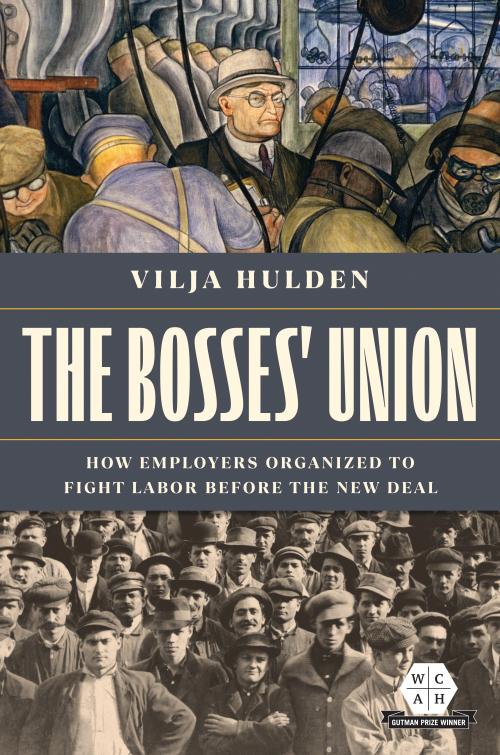 The Bosses' Union
How Employers Organized to Fight Labor before the New Deal
Using the idea of the closed shop to attack labor power
Cloth – $125
978-0-252-04483-0
Paper – $30
978-0-252-08692-2
eBook – $19.95
978-0-252-05388-7
Publication Date
Paperback: 01/24/2023
Cloth: 01/24/2023
About the Book
At the opening of the twentieth century, labor strife repeatedly racked the nation. Union organization and collective bargaining briefly looked like a promising avenue to stability. But both employers and many middle-class observers remained wary of unions exercising independent power.
Vilja Hulden reveals how this tension provided the opening for pro-business organizations to shift public attention from concerns about inequality and dangerous working conditions to a belief that unions trampled on an individual's right to work. Inventing the term closed shop, employers mounted what they called an open-shop campaign to undermine union demands that workers at unionized workplaces join the union. Employer organizations lobbied Congress to resist labor's proposals as tyrannical, brought court cases to taint labor's tactics as illegal, and influenced newspaper coverage of unions. While employers were not a monolith nor all-powerful, they generally agreed that unions were a nuisance. Employers successfully leveraged money and connections to create perceptions of organized labor that still echo in our discussions of worker rights.
* Open access format will be published and available concurrent with other formats.
This book is freely available in an open access edition thanks to TOME (Toward an Open Monograph Ecosystem)—a collaboration of the Association of American Universities, the Association of University Presses, and the Association of Research Libraries—and the generous support of the University of Colorado Boulder Libraries. Learn more at the TOME website, available at: openmonographs.org. This title is licensed under the Creative Commons Attribution-NonCommercial 4.0 International License (CC BY-NC). Read the license at https://creativecommons.org/licenses/by-nc/4.0/legalcode.
About the Author
Vilja Hulden is an associate teaching professor at the University of Colorado Boulder.
Reviews
---
Blurbs
"With keen analysis and vivid prose, Vilja Hulden brilliantly illuminates how U.S. employers fought furiously to undermine unions and blunt demands for workplace democracy in the early twentieth century, creating a warped legacy that still haunts our labor relations and diminishes our politics. This powerfully argued book is essential reading for anyone who wishes to understand the long historical roots of today's reawakened fights for worker justice."--Joseph A. McCartin, author of Collision Course: Ronald Reagan, the Air Traffic Controllers, and the Strike that Changed America
---