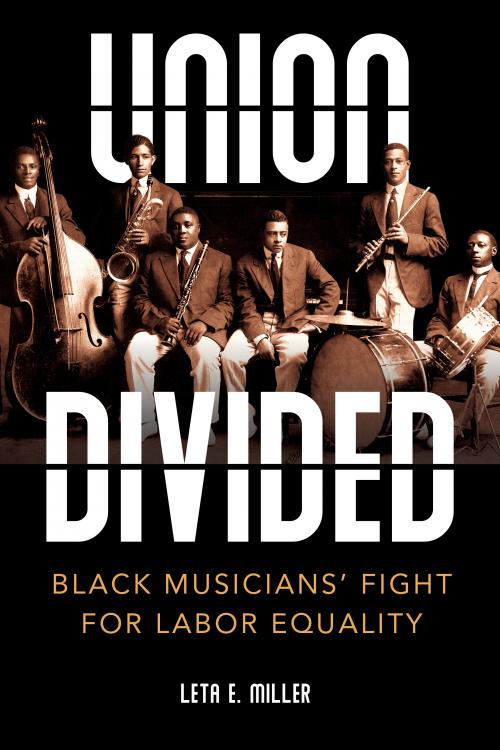 Union Divided
Black Musicians' Fight for Labor Equality
An in-depth account of racial segregation within the American Federation of Musicians
Cloth – $110
978-0-252-04556-1
Paper – $28
978-0-252-08767-7
eBook – $19.95
978-0-252-05522-5
Publication Date
Paperback: 02/06/2024
Cloth: 02/06/2024
About the Book
In the 1910s and 1920s, Black musicians organized more than fifty independent locals within the American Federation of Musicians (AFM) in an attempt to control audition criteria, set competitive wages, and secure a voice in national decision-making. Leta E. Miller follows the AFM's history of Black locals, which competed directly with white locals in the same territories, from their origins and successes in the 1920s through Depression-era crises to the fraught process of dismantling segregated AFM organizations in the 1960s and '70s. Like any union, Black AFM locals sought to ensure employment and competitive wages for members with always-evolving solutions to problems. Miller's account of these efforts includes the voices of the musicians themselves and interviews with former union members who took part in the difficult integration of Black and white locals. She also analyzes the fundamental question of how musicians benefitted from membership in a labor organization.
Broad in scope and rich in detail, Union Divided illuminates the complex working world of unionized Black musicians and the AFM's journey to racial inclusion.
* Publication of this book was supported in part by a grant from the Judith McCulloh Endowment for American Music, and the Joseph Kerman Fund and General Fund of theAmerican Musicological Society, supported in part by the National Endowment for the Humanities and theAndrew W. Mellon Foundation.
Reviews
---
Blurbs
"This work shines light on a little known and understood chapter of the American Federation of Musicians' Unions. It explores the creation by Black musicians, history of, and eventual collapse of dual unionism through the amalgamation of separate African American and white organizations. This was a complicated matter lasting some sixty-plus years and author Miller skillfully shows both the benefits and pitfalls of this development."--David Keller, author of The Blue Note: Seattle's Black Musicians' Union, A Pictorial History, distributed by Washington State University Press
---