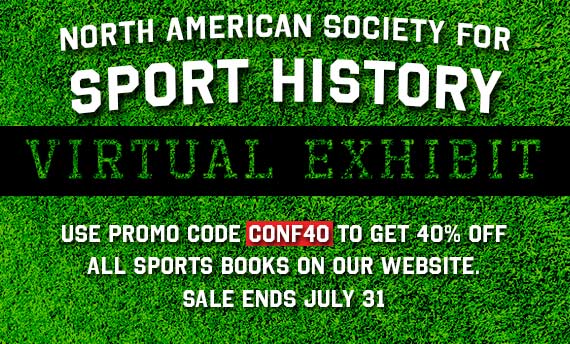 Welcome to our North American Society for Sport History Virtual Exhibit! Even though we might not be able to visit with you in person, you can still step inside our virtual booth and take a look around! And you can still stock up on all the titles that catch your eye at a great discount. Use Promo Code CONF40 to get 40% off all sports books on our website. Browse all the books on sale here. And browse new books and journals, blog posts, and other related content below.
---
The 2020 Olympics may have been postponed, but there are still some exciting new Olympics publications at UIP: The Gold in the Rings: The People and Events that Transformed the Olympic Games by Stephen R. Wenn and Robert K. Barney, The Journal of Olympic Studies edited by Matthew P. Llewellyn, and Passing the Baton: Black Women Track Stars and American Identity by Cat M. Ariail.
Check out our Olympics round up to find even more books and articles on the Olympics.
"How Black Women Track Stars Proved the Powerful Potential of the Olympics" Read a guest post by Cat M. Ariail, author of Passing the Baton.
Recent and Forthcoming Books
Interviews: Listen to interviews with our authors on podcasts and radio
Q&As: Check out the Q&A's below with our sports authors
Further Reading: Check out these reviews, blog posts, excerpts and essays