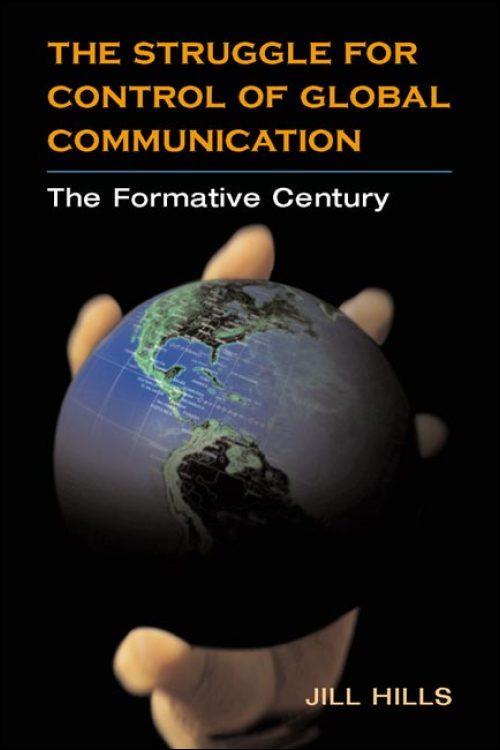 The Struggle for Control of Global Communication
The Formative Century
Unraveling the contentious early history of telecommunications
Cloth – $44
978-0-252-02757-4
eBook – $19.95
978-0-252-09152-0
Publication Date
Cloth: 11/25/2002
About the Book
Tracing the development of communication markets and the regulation of international communications from the 1840s through World War I, Jill Hills examines the political, technological, and economic forces at work during the formative century of global communication.
Hills analyzes power relations within the arena of global communications from the inception of the telegraph through the successive technologies of submarine telegraph cables, ship-to-shore wireless, broadcast radio, shortwave wireless, the telephone, and movies with sound. As she shows, global communication began to overtake transportation as an economic, political, and social force after the inception of the telegraph, which shifted communications from national to international. From that point on, information was a commodity and ownership of the communications infrastructure became valuable as the means of distributing information. The struggle for control of that infrastructure occurred in part because British control of communications hindered the growing economic power of the United States.
Hills outlines the technological advancements and regulations that allowed the United States to challenge British hegemony and enter the global communications market. She demonstrates that control of global communication was part of a complex web of relations between and within the government and corporations of Britain and the United States. Detailing the interplay between American federal regulation and economic power, Hills shows how these forces shaped communications technologies and illuminates the contemporary systems of power in global communications.
Reviews
---
Blurbs
"A stimulating, learned, careful text. . . . For the first time, the jockeying for position between British and U.S. authorities is brought forward as the organizing principle in international telecommunications system development during the first century of transnational network building. The treatment is nuanced, as Hills does not impute any single overriding interest or logic to either state actor. Rather, she integrates the often discordant needs and demands of private corporations into her sweeping analysis."--Dan Schiller, author of Digital Capitalism: Networking the Global Market System

"This work is especially valuable because it remedies the tendency in general historical scholarship to make communication a rather peripheral force in social life. Moreover, Hills's book does an excellent job of assessing the complex and mutually constitutive relationships among political, economic, and technological forces."--Vincent Mosco, author of The Political Economy of Communication:Rethinking and Renewal
---