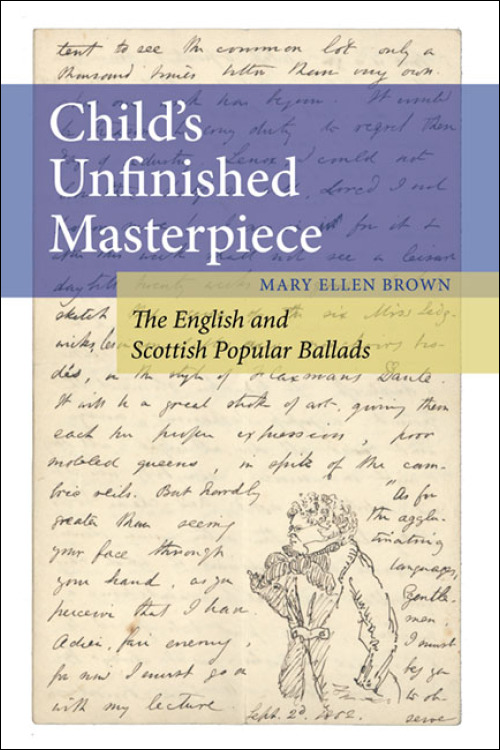 Child's Unfinished Masterpiece
The English and Scottish Popular Ballads
An in-depth analysis of the creation of Child's opus, The English and Scottish Popular Ballads
Cloth – $47
978-0-252-03594-4
Publication Date
Cloth: 03/21/2011
About the Book
The premier scholar of the English-language traditional or popular ballad, Francis James Child spent decades working on his widely read and performed collection,
The English and Scottish Popular Ballads.
In this first single author monograph of Child's life and work, Mary Ellen Brown analyzes Child's editorial methods, his decisions about which ballads to include, and his relationships with colleagues at Harvard and abroad. Brown draws on his extensive correspondence with collaborators to trace the production of his monumental work from conception and selection through organization and collation of the ballads.
Child's Unfinished Masterpiece shows readers what was at stake in Child's search for original manuscript materials housed at libraries and estates far afield and his desire to uncover unedited versions of previous editors' texts. In analyzing Child's letters, Brown also delves into his important network of collaborators, scholars, and friends such as William Macmath, Sven Grundtvig, James Russell Lowell, and Charles Eliot Norton, who influenced the organization and content of his work. Readers learn about the questions Child faced as an editor: whether the materials he gathered were authentic, whether a piece was more ballad or a song, or whether the text was sufficiently old or traditional. In showing Child's struggles with content and organization for The English and Scottish Popular Ballads, Brown notes the difficulty in defining the ballad genre while also showing that a clear definition is not a fatal flaw of the volume or to scholars' continued study of it.
About the Author
Mary Ellen Brown is a professor emerita of folklore, women's studies, and English (adjunct) at Indiana University Bloomington. Her previous publications include William Motherwell's Cultural Politics, 1797–1835 and Burns and Tradition.
Reviews
"A key text for English-language ballad studies."--
Victorian Studies
"An important resource. Brown's project gives Anglo-American folksong scholarship a formidable point of reference to reexamine Child's ongoing impact on song scholarship and practice."--
Journal of Folklore Research
"I did not anticipate that a book about the writing of an earlier book, albeit a classic collection, could be so interesting, engaging, informative and exciting as this one. . . . Brown adds new material and insights, and brings the story together in a unified whole that is compelling, insightful, sometimes surprising, and beautifully written."--
Folklore
---
Blurbs
"This monument of research, synthesis, and reflection is a groundbreaking book that stands as its own major contribution to folklore and ballad studies and serves as a stimulus for further research--just as Child's own titanic work has done. I learned many things from this book, as will anyone who opens its pages."--Maureen N. McLane, author of Balladeering, Minstrelsy, and the Making of British Romantic Poetry

"This illuminating study captures the richness of Francis James Child's labors on The English and Scottish Popular Ballads through a patient scrutiny of his vast correspondence with a host of collaborators. In tracing Child's conclusions about the ballads, Brown provides valuable analysis of the letters that will be appreciated by ballad scholars, folklorists, and scholars of literature alike."--James Porter, founding editor of The Garland Encyclopedia of World Music
---