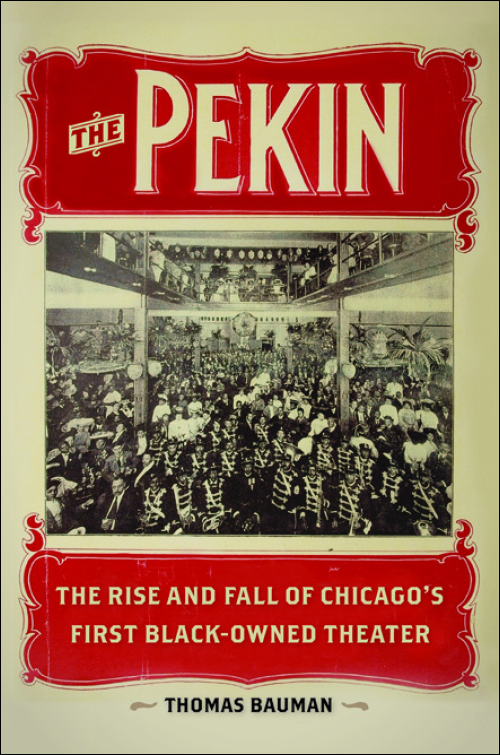 The Pekin
The Rise and Fall of Chicago's First Black-Owned Theater
A portrait of an African American cultural institution in the early twentieth century
Cloth – $57
978-0-252-03836-5
eBook – $19.95
978-0-252-09624-2
Publication Date
Cloth: 05/26/2014
About the Book
In 1904, political operator and gambling boss Robert T. Motts opened the Pekin Theater in Chicago. Dubbed the "Temple of Music," the Pekin became one of the country's most prestigious African American cultural institutions, renowned for its all-black stock company and school for actors, an orchestra able to play ragtime and opera with equal brilliance, and a repertoire of original musical comedies.
A missing chapter in African American theatrical history, Bauman's saga presents how Motts used his entrepreneurial acumen to create a successful black-owned enterprise. Concentrating on institutional history, Bauman explores the Pekin's philosophy of hiring only African American staff, its embrace of multi-racial upper class audiences, and its ready assumption of roles as diverse as community center, social club, and fundraising instrument.
The Pekin's prestige and profitability faltered after Motts' death in 1911 as his heirs lacked his savvy, and African American elites turned away from pure entertainment in favor of spiritual uplift. But, as Bauman shows, the theater had already opened the door to a new dynamic of both intra- and inter-racial theater-going and showed the ways a success, like the Pekin, had a positive economic and social impact on the surrounding community.
About the Author
Thomas Bauman is a professor of musicology at Northwestern University. He is the author of North German Opera in the Age of Goethe.
Reviews
"Fascinating and enlightening."--Nick Digilio,
WGN Chicago
"Impressive. . . . Anyone who is interested in African-American theater, or even in the history of social consciousness and art in Chicago, can benefit from this clearly written and well-researched exploration of a nearly forgotten playhouse."--
South Side Weekly
"An important contribution to the field. . . . Bauman's research is remarkable. Highly recommended."--
Choice
"Musicologist Thomas Bauman directs his prodigious research skills to reconstruct the rise and fall of a single (and singular) institution: Chicago's first black-owned theater, the Pekin. . . . Bauman painstakingly recreates a timeline of performances and offers a sense of the theater's critical reception in black and white newspapers, and understanding of its financial challenges, and a grasp of the role it played within the community."
American Music
"
The Pekin
is a comprehensive work that provides important insights into a lesser known period of African American theater history in Chicago. . . . This book is an important addition to the historical narratives on African American theater in the early twentieth century."--
The Journal of African American History
---
Blurbs
"The Pekin's heretofore neglected background and setting are amply supplied in this superb book. It makes a truly important statement about how theaters were embedded in their communities and how the impact of a place such as the Pekin could affect the reputation and business prospects of its neighbors in extraordinary ways."--Thomas Riis, author of Frank Loesser"It's clear from first glance that Bauman has done something extraordinary in filling in and out one of the biggest gaps in American theater history by narrating the social, cultural, and political biography of both Robert T. Motts himself and of his Pekin Theater of Chicago."--Vershawn Ashanti Young, author of From Bourgeois to Boojie: Black Middle-Class Performances
---