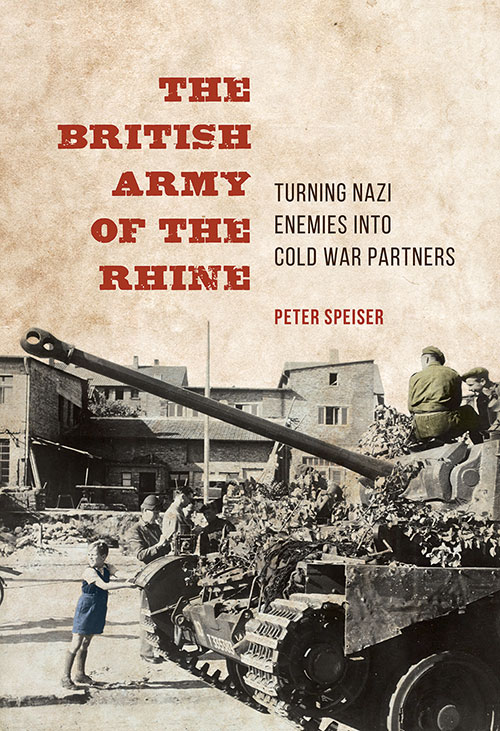 The British Army of the Rhine
Turning Nazi Enemies into Cold War Partners
How British soldiers helped sworn enemies find common ground against the Soviet threat
Cloth – $39.95
978-0-252-04016-0
eBook – $14.95
978-0-252-09836-9
Publication Date
Cloth: 06/06/2016
About the Book
Between 1945 and 1957, West Germany made a dizzying pivot from Nazi bastion to Britain's Cold War ally against the Soviet Union. Successive London governments, though often faced with bitter public and military opposition, tasked the British Army of the Rhine (BAOR) to serve as a protecting force while strengthening West German integration into the Western defense structure.
Peter Speiser charts the BAOR's fraught transformation from occupier to ally by looking at the charged nexus where British troops and their families interacted with Germany's civilian population. Examining the relationship on many levels, Speiser ranges from how British mass media representations of Germany influenced BAOR troops to initiatives taken by the Army to improve relations. He also weighs German perceptions, surveying clashes between soldiers and civilians and comparing the popularity of the British services with that of the other occupying powers. As Speiser shows, the BAOR's presence did not improve the relationship between British servicemen and the German populace, but it did prevent further deterioration during a crucial and dangerous period of the early Cold War.
An incisive look at an under-researched episode, The British Army of the Rhine sheds new light on Anglo-German diplomatic, political, and social relations after 1945, and evaluates their impact on the wider context of European integration in the postwar era.
About the Author
Peter Speiser is a lecturer in history at the University of Westminster.
Reviews
"Speiser's work is both insightful and accessible."--
H-Net Review
"[Speiser] offers a new insight into the unique situation of the two former enemies now practicing cohabitation in a European context."--
Journal of Contemporary History
"Speiser's monograph is valuable because he thoroughly covers a subject that has received little treatment."--
Journal of Modern History
---
Blurbs
"Speiser breaks entirely new ground. The assessment of the impact of British public opinion on servicemen's attitudes toward Germany is particularly well done. The extensive use of the German archives is commendable."--Ian F. W. Beckett, editor of Citizen Soldiers and the British Empire, 1837–1902

"Speiser provides a well-researched, lively account of how, not always successfully, after 1945 the British attempted to use their Rhine Army to win German hearts and minds. In addition to its value as a historical narrative, Speiser's work throws out issues of direct contemporary relevance."--Clive Emsley, author of Soldier, Sailor, Beggarman, Thief: Crime and the British Armed Services since 1914
---