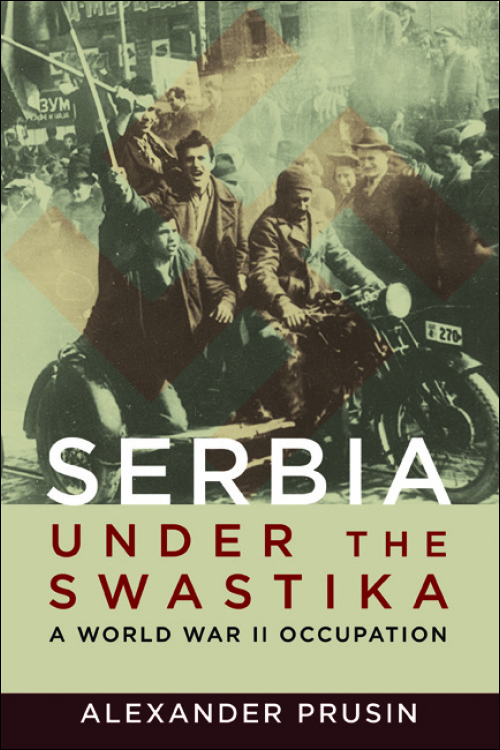 Serbia under the Swastika
A World War II Occupation
Acquiescence, collaboration, and resistance in WWII Serbia
Cloth – $39.95
978-0-252-04106-8
eBook – $14.95
978-0-252-09961-8
Publication Date
Cloth: 07/03/2017
About the Book
The 1941 Axis invasion of Yugoslavia initially left the German occupiers with a pacified Serbian heartland willing to cooperate in return for relatively mild treatment. Soon, however, the outbreak of resistance shattered Serbia's seeming tranquility, turning the country into a battlefield and an area of bitter civil war.
Deftly merging political and social history, Serbia under the Swastika looks at the interactions between Germany's occupation policies, the various forces of resistance and collaboration, and the civilian population. Alexander Prusin reveals a German occupying force at war with itself. Pragmatists intent on maintaining a sedate Serbia increasingly gave way to Nazified agencies obsessed with implementing the expansionist racial vision of the Third Reich. As Prusin shows, the increasing reliance on terror catalyzed conflict between the nationalist Chetniks, communist Partisans, and the collaborationist government. Prusin unwraps the winding system of expediency that at times led the factions to support one-another against the Germans--even as they fought a ferocious internecine civil war to determine the future of Yugoslavia.
Comprehensive and judicious, Serbia under the Swastika is a rare English-language foray into the still-fraught history of Serbia in World War II.
About the Author
Alexander Prusin is a professor of history at the New Mexico Institute of Mining and Technology. He is the author of The Lands Between: Conflict in the Eastern European Borderlands, 1870-1992 and Nationalizing a Borderland: War, Ethnicity, and Anti-Jewish Violence in East Galicia, 1914-1920.
Reviews
"
Serbia under the Swastika
succeeds as a modest little volume about one corner of a larger national tragedy. . . . Prusin seems to have mastered much of the original wartime and early post-war documentation plus a plethora of recent sources from the post-Yugoslavia Balkans."--
Stone & Stone Second World War Books
"What the book provides is a concise and well-supported examination of how these phenomena played out within a specifically Serbian context. . . . For those with research or teaching interests in Balkan history, the Second World War, or twentieth-century Europe,
Serbia under the Swastika
is worth a careful read."--
H-Net
"Prusin does a good job of sorting through the many factions of Serb/Yugoslav/Balkan politics, collaboration, and resistance, making this a very useful read for anyone interested in the Balkans or the history of military occupation."--
The NYMAS Review
"Prusin has made an important and very welcome contribution to the literature on wartime Yugoslavia, one that comes highly recommended to students, specialists, and interested laypeople alike." --
Slavic Review
---
Blurbs
"A crisply written, succinct book based on prodigious research in the archives and a strong knowledge of the secondary research and key controversies."--Marko Attila Hoare, author of The Bosnian Muslims in the Second World War: A History

"In this ambitious study, Alexander Prusin offers a serious and scholarly account of the Serbian collaborationist state during World War II. . . . The result is a balanced and useful history of a still-contested period in Serbia's history. Well worth reading."--Sabrina P. Ramet, author of The Three Yugoslavias: State-Building and Legitimation in Yugoslavia, 1918-2005
---