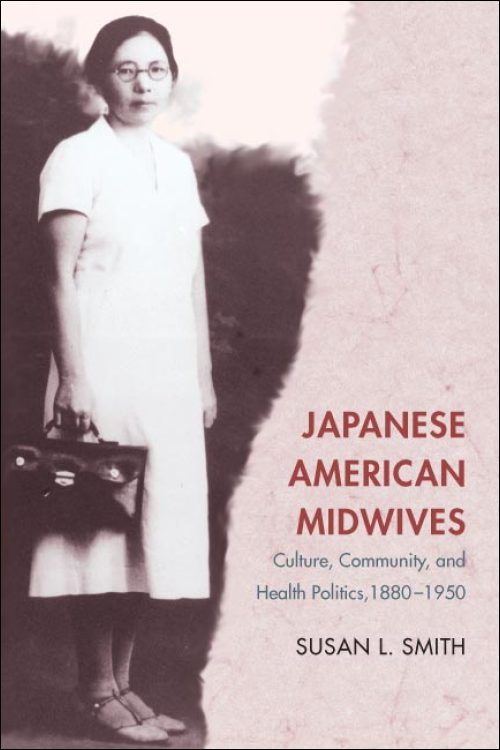 Japanese American Midwives
Culture, Community, and Health Politics, 1880-1950
The lives and work of Japanese midwives in the United States
Paper – $28
978-0-252-07247-5
eBook – $19.95
978-0-252-09243-5
Publication Date
Cloth: 11/07/2005
About the Book
In the late nineteenth century, Japan's modernizing quest for empire transformed midwifery into a new woman's profession. With the rise of Japanese immigration to the United States, Japanese midwives (sanba) served as cultural brokers as well as birth attendants for Issei women. They actively participated in the creation of Japanese American community and culture as preservers of Japanese birthing customs and agents of cultural change.
Japanese American Midwives reveals the dynamic relationship between this welfare state and the history of women and health. Susan L. Smith blends midwives' individual stories with astute analysis to demonstrate the impossibility of clearly separating domestic policy from foreign policy, public health from racial politics, medical care from women's caregiving, and the history of women and health from national and international politics. By setting the history of Japanese American midwives in this larger context, Smith reveals little-known ethnic, racial, and regional aspects of women's history and the history of medicine.
About the Author
Susan L. Smith is a professor at the University of Alberta and author of the award-winning Sick and Tired of Being Sick and Tired: Black Women's Health Activism in America, 1890-1950.
Reviews
"
Japanese American Midwives
makes several important contributions to Asian American history, women's history, and the history of medicine."--
The Journal of American History
"A fascinating tale of the lives of some remarkable pioneer women in the far West. A very useful primer on some of the historical forces that continue to shape the gendered nature of reproductive health care and public health policy in our nation today."--
Journal of Midwifery & Women's Health
"The book deepens our understanding of the history of midwifery, broadening its scope to an international level to include foreign policy and imperialism."--
American Historical Review
"Alters and enriches our understandings of these histories. Well written, well researched, and a pleasure to read."--
Journal of Social History
"Susan Smith has once again made a significant contribution to the history of midwifery in the United States. The beautifully written narrative and smart analysis is relevant to multiple fields of historical study."--
Nursing History Review
---
Blurbs
"Brilliantly researched, Japanese American Midwives is an important contribution to the history of midwifery and women's health care. The midwives' life stories make fascinating reading, and Smith's analysis of World War II is riveting. Japanese American Midwives is a poignant reminder of the ways in which the most private of women's experiences—childbirth—is shaped by racial politics, foreign policy, and war. An impressive piece of work."--Molly Ladd-Taylor, coeditor of Women, Health and Nation: Canada and the United States Since 1945

"This path-breaking book draws on the story of Japanese-American midwives to illustrate the complexity of racial, ethnic, and professional taxonomies. Professional standing, culture and ethnicity, local traditions, and immigrant status all are significant in the historical process of creating the meanings of midwifery. Susan Smith's insightful and compelling book expands the horizons of what we know about the practice of midwifery in this country and is a must read for social historians, women's historians, and historians of medicine."--Judith Leavitt, editor of Women and Health in America: Historical Readings

"Japanese American Midwives is a model of how to weave together historical accounts that do not usually talk with one another. Her blend of medical, military, and women's history traverses the Pacific, offering full-bodied characters and smart analysis that will be of interest to scholars, medical practitioners, and lay readers all."--Laura McEnaney, Civil Defense Begins at Home: Militarization Meets Everyday Life in the Fifties
---