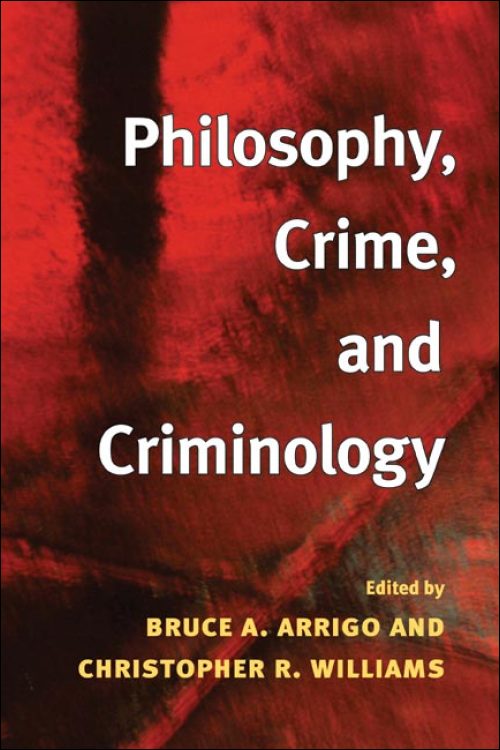 Philosophy, Crime, and Criminology
Revealing the values implicit in today's crime and public policy agenda
Paper – $28
978-0-252-07289-5
eBook – $19.95
978-0-252-09041-7
Publication Date
Paperback: 01/01/2006
Cloth: 04/24/2006
About the Book
Philosophy, Crime, and Criminology
represents the first systematic attempt to unpack the philosophical foundations of crime in Western culture. Utilizing the insights of ontology, epistemology, aesthetics, and ethics, contributors demonstrate how the reality of crime is informed by a number of implicit assumptions about the human condition and unstated values about civil society.
Charting a provocative and original direction, editors Bruce A. Arrigo and Christopher R. Williams couple theoretically oriented chapters with those centered on application and case study. In doing so, they develop an insightful, sensible, and accessible approach for a philosophical criminology in step with the political and economic challenges of the twenty-first century. Revealing the ways in which philosophical conceits inform prevailing conceptions of crime, Philosophy, Crime, and Criminology is required reading for any serious student or scholar concerned with crime and its impact on society and in our lives.
About the Author
Bruce A. Arrigo is a professor of crime, law, and society and the former chair of the department of criminal justice at the University of North Carolina at Charlotte. He is the author of Social Justice/Criminal Justice and many other books. Christopher R. Williams is an associate professor of criminology at the University of West Georgia. He is the coauthor of Law, Psychology, and Justice: Chaos Theory and the New (Dis)Order with Bruce A. Arrigo.
Reviews
"This book is a wonderful read, and the first of its kind. It should be required of anybody who calls himself or herself a 'criminologist.' I think this work will be exciting and stimulating for students, and in this sense, it is a heuristic masterpiece! Such a book has been long overdue!" --Gregg Barak, author of Integrating Criminologies

"This book begins to fill a vacuum in the theoretical literature by critiquing the socially constructed nature of theory and concepts. Many, perhaps most, scholars will likely disagree with the content, but that is one of its greatest strengths. The collection challenges us to think about crime in a new way." --Jim Thomas, author of Prisoner Litigation: The Paradox of the Jailhouse Lawyer
---