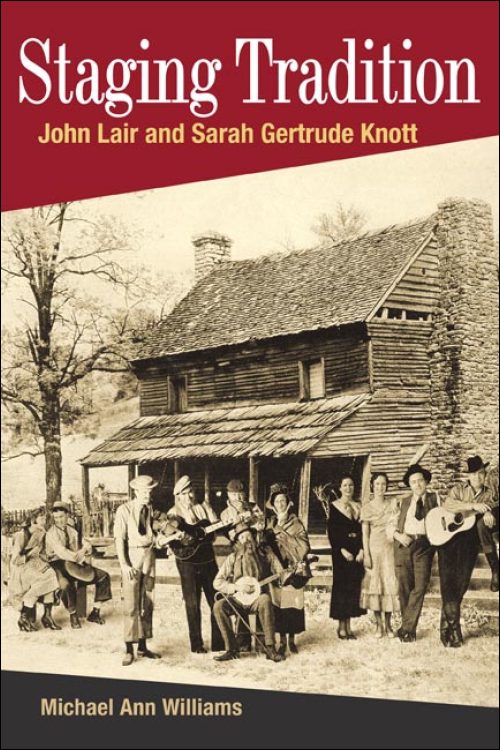 Staging Tradition
John Lair and Sarah Gertrude Knott
The colorful biography of the pioneering producers of folk music festivals
Paper – $23
978-0-252-07344-1
Publication Date
Paperback: 01/01/2006
Cloth: 08/28/2006
About the Book
Based on extensive archival research and oral history,
Staging Tradition
traces the parallel careers of the creators of the Renfro Valley Barn Dance and the National Folk Festival. Through their devotion to the staging of traditional culture, including folk, country, and bluegrass music, John Lair (1894-1985) and Sarah Gertrude Knott (1895-1984) became two of the mid-twentieth century's most notable producers.
Lair and Knott's discovery of new developments in theater and entertainment during the 1920s led the pair to careers that kept each of them center stage. Inspired by programs such as WLS's Barn Dance and the success of early folk events, Lair promoted Kentucky musicians. Knott staged her own radically inclusive festival, which included Native and African American traditions and continues today as the National Folk Festival. Michael Ann Williams shows how Lair and Knott fed the public's fascination with the "art of the common man" and were in turn buffeted by cultural forces that developed around and beyond them.
About the Author
Michael Ann Williams is University Distinguished Professor of Folk Studies, Emeritus, at Western Kentucky University. She is the author of Great Smoky Mountains Folklife and other books.
Reviews
"Williams draws on her meticulous research of primary source materials, including reams of personal correspondence, to trace the professional paths of two pivotal stagers of traditional culture. . . . This is an important work that should appeal to all U.S. folklorists, ethnomusicologists, and American Studies scholars."--Journal of Folklore Research

"Staging Tradition adds valuable insights into the sometimes contentious relationship between folk music presenters, performers, and audiences."--Sing Out!

"An intriguing account of how grassroots culture--especially Appalachian culture--has come to be viewed, presented, manipulated, and preserved through public performance."--Goldenseal

"The subjects of this book, John Lair and Sarah Gertrude Knott, both dedicated their careers to presenting traditional music. . . . Their stories tell of great dedication and commitment, the intrigues and conflicts they faced in realizing their ends are laid out in great detail, alongside their many achievements."--Folk Music Journal

"Michael Ann Williams offers a meticulously researched parallel biography of Sarah Gertrude Knott and John Lair, two important but overlooked figures in the movement to popularize American folk music. . . . She calls for an important revision of our understanding of competing definitions and enactments of folk music during the twentieth century."--American Studies

"Williams, with an admirable eye for detail, has made a fine contribution to these long-standing debates."--Journal of Southern History

"Williams does a fine job rescuing Lair and Knott from an unfair obscurity. Those eager to find more details about the origins and internal workings of the Renfro Valley Barn Dance and the National Folk Festival will be amply rewarded by Williams' deep research in both archival and oral history sources."--Journal of Appalachian Studies
---