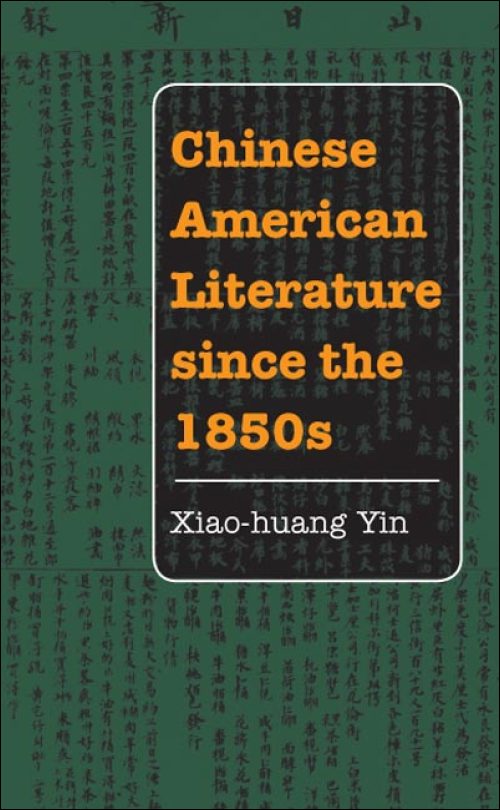 Chinese American Literature since the 1850s
Foreword by Roger Daniels
A comprehensive study of Chinese American literature in English and Chinese from the Nineteenth Century to the present
Paper – $28
978-0-252-07348-9
Publication Date: 2006
About the Book
The writings of immigrants from China and their descendants in the United States reflect the changes and continuity in the Chinese American experience. Xiao-huang Yin combines literary and historical scholarship to trace the origins and development of this extensive, neglected body of literature.
Chinese American Literature since the 1850s covers representative works from the 1850s to the present. Selections include journalism and autobiography by nineteenth-century Chinese authors; writings on the walls of Angel Island, the main Asian immigrant arrival point on the West Coast; writings of late-nineteenth and early-twentieth-century "cultivated Chinese," students and scholars who came to America to advance their educations; important writing by immigrants such as Chen Ruoxi, Yu Lihua, and Zhang Xiguo; and the works of more recent authors like Sui Sin Far, Jade Snow Wong, Frank Chin, Maxine Hong Kingston, and Amy Tan.
An essential introduction and guide to the field, Chinese American Literature since the 1850s enlarges the available body of literature and provides new insights into the Chinese American immigrant experience and the writing inspired by it.
About the Author
Xiao-huang Yin is a professor and chair of the American Studies Program at Occidental College
Reviews
"A careful study of Chinese Americans seen through a fascinating reading and documentation of their writing over the past 150 years. Xiao-huang Yin demonstrates that bilingual and transnational research is not only most fruitful, but a necessity."--USA Today

"History and literature can act as a twin set of lamps, revealing together what each singly would not have the power to illuminate. Xiao-huang Yin's study connects history and literature to create a framework that sets a new standard for this style of historical analysis."--American Quarterly
---