Waves of Opposition
Labor and the Struggle for Democratic Radio
A riveting look at the rise of labor radio
Paper – $28
978-0-252-07364-9
Publication Date
Paperback: 01/01/2006
Cloth: 11/06/2006
About the Book
Radio sparked the massive upsurge of organized labor during the Great Depression. The powerful new medium became an important weapon in the ideological war between labor and business. Corporations used radio to sing the praises of individualism and consumerism, while unions emphasized equal rights, industrial democracy, and social justice.
Elizabeth Fones-Wolf analyzes the battle to utilize, and control, the airwaves in radio's early era. Working chronologically, she explores the advent of local labor radio stations such as WCFL and WEVD, labor's campaigns against corporate censorship, and union experiments with early FM broadcasting. Using union archives and broadcast industry records, Fones-Wolf demonstrates radio's key role in organized labor's efforts to fight business's domination of political discourse throughout the 1930s, 1940s, and 1950s. She concludes with a look at how labor's virtual disappearance from today's media helps explain why unions have become so marginalized, and offers important historical lessons for revitalizing organized labor.
About the Author
Elizabeth Fones-Wolf
is a professor of history at West Virginia University. She is the author of
Selling Free Enterprise: The Business Assault on Labor and Liberalism, 1945-1960
and the coauthor of
Struggle for the Soul of the Postwar South: White Evangelical Protestants and Operation Dixie
.
---
Also by this author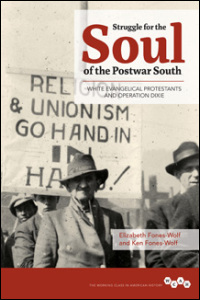 Reviews
"Fones-Wolf tells her story extremely well and constructs it on a foundation of archival research and general reading that is impressive indeed."--Labor History

"Waves of Opposition is a significant book, and useful to organizers."--Social Policy

"Extensive archival research explores labor-owned radio stations and productions of local and network labor shows for news and entertainment. . . . Potential parallels with current debates about spectrum allocation and sustained class bias in broadcasting abound. . . . Recommended."Choice

"Elizabeth Fones-Wolf has written a definitive history of how, from the 1930s to the 1950s, unions struggled with corporations for radio outlets, airtime, and audience attention, in both national and local arenas."--Journal of American History

"Waves of Opposition is an important addition to the literature in the radio reform movement, moving beyond the emphasis on policy debates to direct our attention to the ways in which movements struggled on a day-to-day basis to air their views in an often hostile environment."--American Journalism

"Elizabeth Fones-Wolf has written an intriguing volume on the history of the U.S. labor movement's radio broadcasting efforts. . . .The book is thoroughly researched, gracefully written, and uncovers a little-known aspect of labor history."--Jhistory

"Elizabeth Fones-Wolf and Ken Fones-Wolf have written a nuanced, well argued monograph on the role of religion in Operation Dixie, the attempt by the Congress of Industrial Organization (CIO) to organize southern workers after World War II. . . . An illuminating study for a variety of historians."--Journal of American History
---