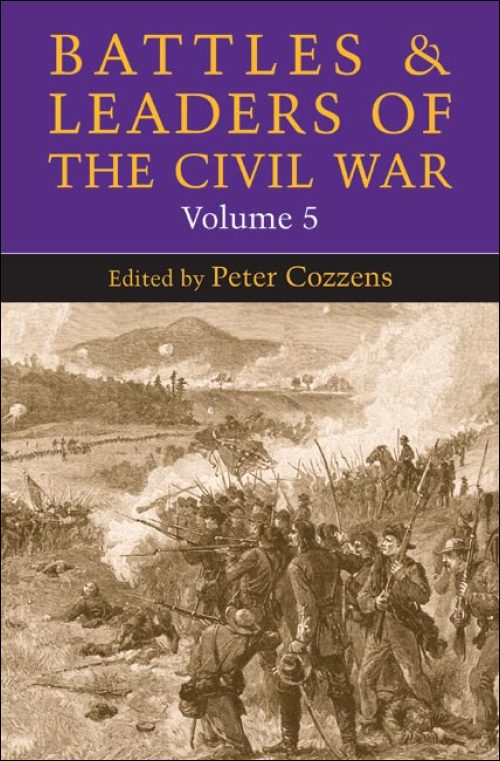 Battles and Leaders of the Civil War
Volume 5
An indispensable must-have book for all Civil War buffs and historians, bringing together little-known and never before gathered articles, maps, and illustrations
Paper – $20.95
978-0-252-07450-9
eBook – $14.95
978-0-252-09850-5
Publication Date
Paperback: 01/01/2007
Cloth: 01/01/2007
About the Book
The first four volumes of
Battles and Leaders of the Civil War,
published in the late nineteenth century, became the best-selling and most frequently cited works ever published on the Civil War.
Volume 5,
assembled by the acclaimed military historian Peter Cozzens, carries on the tradition of its namesake, offering a dazzling new collection of articles written by military and civilian leaders, North and South, on a broad array of war-related topics.
This massive new collection of primary documents provides a wealth of fresh material on the major events, key personalities, and undying controversies of the war, often from opposing points of view. Featured articles include General Grant on the second battle of Bull Run, General Beauregard on the Shiloh campaign, General Sherman on the conference at City Point, Joshua Chamberlain on the Fredericksburg campaign, and many more. Presented here with dozens of maps and more than one hundred illustrations, these invaluable documents bring vividly to life the wartime experiences of the men who determined the course of the nation.
Reviews
"Sure to interest readers as much as the original series and is highly recommended for public as well as academic libraries."--
Library Journal
"Sizzling with essays, testimonies, and writings about individuals and events that affected conflict outcomes of the Civil War. . . . This rich compilation was gathered from original articles published immediately following the war. Far from dry, these are lively and obscure accounts."--
Foreword Magazine
---
Blurbs
"Peter Cozzens has compiled a worthy companion to the original volumes of Battles and Leaders of the Civil War. It offers an array of testimony about prominent individuals and critical events, much of it written by participants whose decisions and actions helped shape the course of the conflict. Anyone interested in Civil War military or political history will read this book with profit."--Gary W. Gallagher, Nau Professor of History at the University of Virginia and author of The Confederate War
---