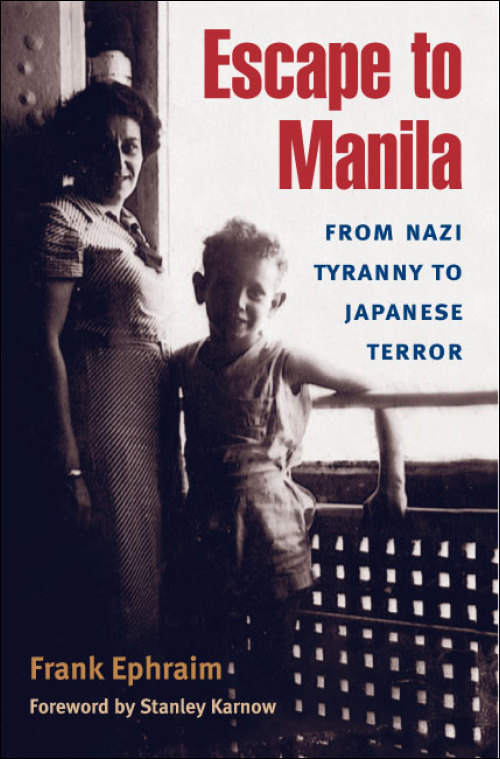 Escape to Manila
From Nazi Tyranny to Japanese Terror
Foreword by Stanley Karnow
A harrowing account of Jewish refugees in the Philippines
Paper – $20.95
978-0-252-07526-1
eBook – $14.95
978-0-252-09111-7
Publication Date
Paperback: 01/01/2008
Cloth: 09/22/2003
About the Book
With the rise of Nazism in the 1930s more than a thousand European Jews sought refuge in the Philippines, joining the small Jewish population of Manila. When the Japanese invaded the islands in 1941, the peaceful existence of the barely settled Jews filled with the kinds of uncertainties and oppression they thought they had left behind. Escape to Manila gathers the testimonies of thirty-six refugees, who describe the difficult journey to Manila, the lives they built there, and the events surrounding the Japanese invasion. Combining these accounts with historical and archival records, Manila newspapers, and U.S. government documents, Frank Ephraim constructs a detailed account of this little-known chapter of world history.
About the Author
Frank Ephraim was born in Berlin in 1931 and fled to the Philippines with his parents in 1939. In 1946 he emigrated to the United States. After a career in naval architecture, he served as the director of program evaluation for the National Highway Traffic Safety Administration, U.S. Department of Transportation.
Reviews
"The book's riveting centerpiece combines military history and personal horror to describe the Battle of Manila. . . . Burned out of their homes, Jews roam the streets with other civilians, seeking safe havens, crouching to dodge bullets, hiding in holes dug in the ground covered with corrugated roofing. . . .
Escape to Manila
. . . enables readers to know and feel the fires."--
Hadassah Magazine
"The vignettes and first person histories make for very interesting reading."--
Jewish Book World
---
Blurbs
"Ephraim has constructed a fascinating narrative from a rich mix of archival research, oral history, and autobiographical memoir. He offers us a stirring portrait of a community of resourceful, resilient, courageous, and compassionate individuals."--Michael Shapiro, director, Program in Jewish Culture and Society, University of Illinois, Urbana-Champaign
---