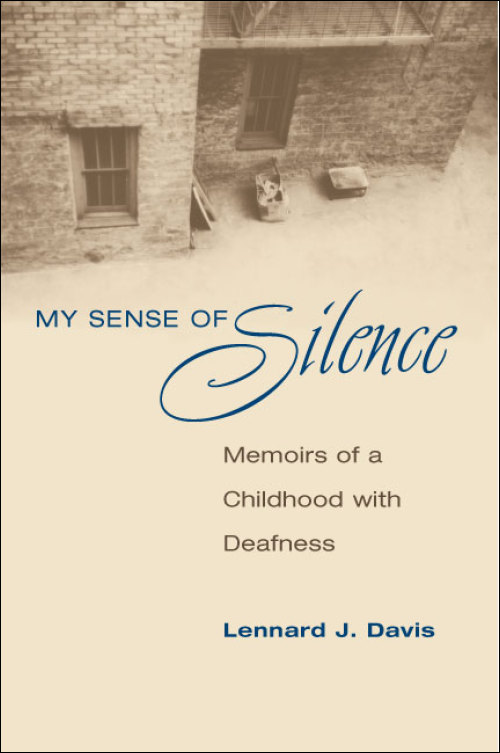 My Sense of Silence
Memoirs of a Childhood with Deafness
A beautifully told and unique recollection of life as the child of immigrant Jews in the Bronx and as the child of deaf parents
Paper – $26
978-0-252-07577-3
eBook – $14.95
978-0-252-09094-3
Publication Date
Paperback: 01/01/2008
About the Book
Lennard J. Davis grew up as the hearing child of deaf parents. In this candid, affecting, and often funny memoir, he recalls the joys and confusions of this special world, especially his complex and sometimes difficult relationships with his working-class Jewish immigrant parents. Gracefully slipping through memory, regret, longing, and redemption, My Sense of Silence is an eloquent remembrance of human ties and human failings.
About the Author
Lennard J. Davis is a professor of English, Disability and Human Development, and Medical Education at the University of Illinois at Chicago. He has written several books and published essays in The Nation, the Chronicle of Higher Education, and other publications, and he has been a commentator on National Public Radio.
Reviews
Selected as an "Editors Choice" by the
Chicago Tribune
"This is a man revealing himself, touched and startled by his act of exposure, discovering and offering the old truth: every life matters. Reminding us of this is what memoir does best. . . . An engrossing contribution to the genre."--
New York Times Book Review
"Good memoirs with staying power are hard to find any year. One of this year's very best is . . .
My Sense of Silence.
Davis succeeds brilliantly in doing many things. His is an outstanding personal and cultural study of deafness as well as a savvy and moving intellectual and political autobiography."--
The Bloomsbury Review
"[Davis] infuses his writing with humor and the sense of love and respect he developed for his parents. . . . Davis's descriptions of the richness and complexity of sign language are the most fascinating portions of the book. Highly recommended."--
Library Journal
"A truly poetic reflection flanked by Davis's ambivalent and unresolved childhood. . . . Davis blends so much painstaking detail into his writing, pulling at the reader's emotions as he processes his own odd experience. The book convincingly paints the struggles of a young man who must 'recover the child, deaf-self' that he leaves behind 'merging it with [a] hearing self.'"--
The Minnesota Daily
---
Blurbs
"A provocative and personal odyssey of growing up with deaf parents, remarkable for its candor, humor and originality. Davis's memories are passionate and fierce as he pieces together the stories of his family, probing the elusive relationships between childhood and adult life. Highly recommended."--Paul Preston, author of Mother Father Deaf: Living between Sound and Silence and co-director of the National Resource Center for Parents with Disabilities
---