Making Truth
Metaphor in Science
A stimulating perspective on how scientists interpret the world and communicate among themselves and with others
Paper – $28
978-0-252-07582-7
Publication Date
Paperback: 01/01/2008
Cloth: 05/05/2003
About the Book
How does science work?
Making Truth: Metaphor in Science
argues that most laypeople, and many scientists, do not have a clear understanding of how metaphor relates to scientific thinking. With stunning clarity, and bridging the worlds of scientists and nonscientists, Theodore L. Brown demonstrates the presence and the power of metaphorical thought.
To illustrate the roles of metaphor in science, Brown presents a series of studies of scientific systems. These range from the atom, historically one of the most important ideas in science, through models in chemistry and biology, including current "hot" topics such as protein folding, chaperone proteins, and global warming. The case studies in Making Truth illustrate the deeply metaphorical nature of scientific reasoning and communication. They provide the basis for far-reaching conclusions about science as an intellectual and social practice and about the nature of scientific truth.
About the Author
Theodore L. Brown
is a professor emeritus of chemistry at the University of Illinois at Urbana-Champaign, where he also served as director of the Beckman Institute, vice chancellor for research, and interim vice chancellor for academic affairs. He is the author of
Energy and the Environment
and a coauthor of
Chemistry: The Central Science.
---
Also by this author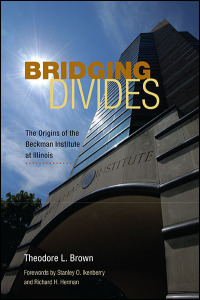 Reviews
"An interesting and important book . . . filled with insight about the way scientists think and work, a book that will generate an important dialogue about science and science education."--
Journal of Chemical Education
"
Making Truth
is an engaging and well-written book about the importance of metaphor in science, intended for a wide audience."--
Philosophy of Science
"Brown has a fluid and accessible writing style, and whether or not you find his thesis convincing,
Making Truth
makes for thought-provoking and worthwhile reading."--
The Nucleus
"For anyone interested in the philosophy of science. Highly recommended."--
Choice
"To sum up: Theodore L. Brown's book is excellent."--
HYLE--International Journal for Philosophy of Chemistry
---
Blurbs
"Anyone with a serious interest in science must read this book. In it, Brown demonstrates that metaphorical thought is central in all branches of science, just as it is in everyday life and mathematics. Particles as waves, time as a spatial dimension, gravity as the curvature of space-time, ion channels, protein folding. All these crucial scientific metaphors--and many more--allow us to understand science in terms of our embodied experience, build comprehensible models, make predictions, and perform precise calculations."--George Lakoff, coauthor of Metaphors We Live By, Philosophy in the Flesh, and Where Mathematics Comes From

"This is an important book. Scientists will find it thought-provoking, and science teachers will find it a gold mine. Indeed, this book could be transforming for science education at the elementary, high school, and introductory college level."--Linda S. Wilson, president emerita of Radcliffe College and coauthor of Who Succeeds in Science? The Gender Dimension
---