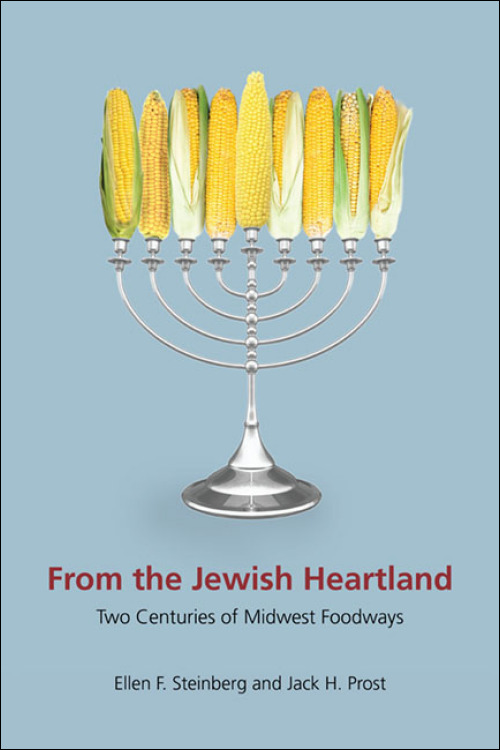 From the Jewish Heartland
Two Centuries of Midwest Foodways
Uncovering the vibrant culinary culture of Jewish cooking in the Midwest
Cloth – $32.95
978-0-252-03620-0
Paper – $19.95
978-0-252-07813-2
eBook – $14.95
978-0-252-09315-9
Publication Date
Paperback: 02/04/2013
About the Book
From the Jewish Heartland: Two Centuries of Midwest Foodways
reveals the distinctive flavor of Jewish foods in the Midwest and tracks regional culinary changes through time. Exploring Jewish culinary innovation in America's heartland from the 1800s to today, Ellen F. Steinberg and Jack H. Prost examine recipes from numerous midwestern sources, both kosher and nonkosher, including Jewish homemakers' handwritten manuscripts and notebooks, published journals and newspaper columns, and interviews with Jewish cooks, bakers, and delicatessen owners.
With the influx of hundreds of thousands of Jews during the late nineteenth and early twentieth centuries came new recipes and foodways that transformed the culture of the region. Settling into the cities, towns, and farm communities of Ohio, Indiana, Wisconsin, Michigan, Illinois, Missouri, Iowa, and Minnesota, Jewish immigrants incorporated local fruits, vegetables, and other comestibles into traditional recipes. Such incomparable gustatory delights include Tzizel bagels and rye breads coated in midwestern cornmeal, baklava studded with locally grown cranberries, dark pumpernickel bread sprinkled with almonds and crunchy Iowa sunflower seeds, tangy ketchup concocted from wild sour grapes, Sephardic borekas (turnovers) made with sweet cherries from Michigan, rich Chicago cheesecakes, native huckleberry pie from St. Paul, and savory gefilte fish from Minnesota northern pike.
Steinberg and Prost also consider the effect of improved preservation and transportation on rural and urban Jewish foodways, as reported in contemporary newspapers, magazines, and published accounts. They give special attention to the impact on these foodways of large-scale immigration, relocation, and Americanization processes during the nineteenth century and the efforts of social and culinary reformers to modify traditional Jewish food preparation and ingredients.
Including dozens of sample recipes, From the Jewish Heartland: Two Centuries of Midwest Foodways takes readers on a memorable and unique tour of midwestern Jewish cooking and culture.
About the Author
Ellen F. Steinberg is a writer, researcher, and anthropologist as well as the author of Learning to Cook in 1898: A Chicago Culinary Memoir. Born and raised in Chicago, she currently lives in River Forest, Illinois. Jack H. Prost is a professor of anthropology at the University of Illinois at Chicago. He has taught and written on the anthropology of cuisine and food taboos.
Reviews
"Recipes live lives just like people, with some ending up forgotten while others are lovingly remembered for generations. . . . Luckily, some recipes and their authors get rescued from dusty anonymity by curious cooks, history-loving food writers, and culinary anthropologists like Ellen F. Steinberg and Jack H. Prost."--
Chicago Tribune
"After delighting in the myriad tastes and traditions of Midwestern Jewry summoned up by this evocative book, readers will be much less likely reflexively to think New York when they encounter the delights of the delicatessen or savor a traditional Sabbath or other Jewish holiday dinner."--
The Washington Times
"A specialized resource for scholars of Judaica and food-devotees alike, the book presents classics such as gefilte and matzos alongside lesser-known dishes. It is a sometimes nostalgic look at preserving authenticity while embracing creativity."--
Publishers Weekly
"The history is interesting and written with clarity. . . . Many readers will want to turn the pages in search of the recipes for matzo cake, cheese pie, brandy peaches and gefilte fish. It all looks easy enough to try at home!"--
Shepherd Express
"This is the first book to specifically address the history of Midwest Jewish cooking; it is a must-have for public and academic libraries in this area. Highly recommended."--
Choice
"[Steinberg and Prost] have a charming way of incorporating recipes as a vital part of the larger story of immigration and acculturation."--
Minnesota History
"The authors have performed a great service in furnishing a taste of the richness and complexity of Jewish food and foodways in the Midwest, one that will give scholars many new avenues for fruitful research."--
American Jewish History
---
Blurbs
"A fascinating overview of historic Jewish foodways throughout the Midwest, with many examples of recipes brought to the Midwest by Jewish immigrants. I know of no other work on Jewish American food with this concentration and breadth."--Joan Nathan, author of Jewish Cooking in America
---