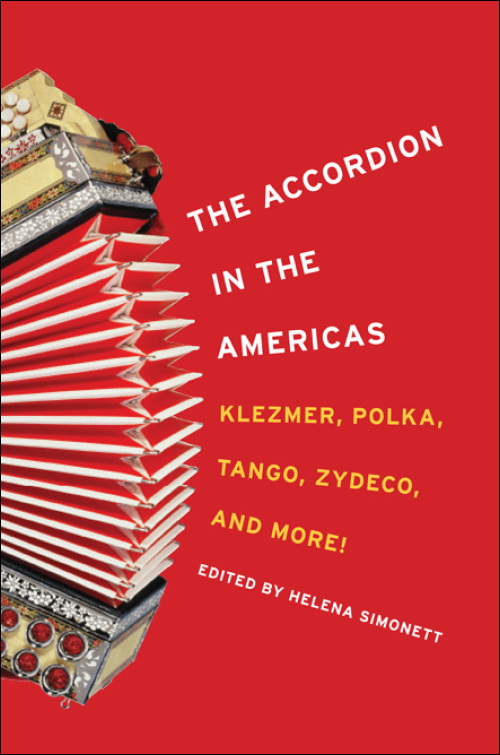 The Accordion in the Americas
Klezmer, Polka, Tango, Zydeco, and More!
The accordion in the new world
Cloth – $125
978-0-252-03720-7
Paper – $32
978-0-252-07871-2
eBook – $19.95
978-0-252-09432-3
Publication Date
Paperback: 10/29/2012
Cloth: 10/29/2012
About the Book
An invention of the Industrial Revolution, the accordion provided the less affluent with an inexpensive, loud, portable, and durable "one-man-orchestra" capable of producing melody, harmony, and bass all at once. Imported from Europe into the Americas, the accordion with its distinctive sound became a part of the aural landscape for millions of people but proved to be divisive: while the accordion formed an integral part of working-class musical expression, bourgeois commentators often derided it as vulgar and tasteless.
This rich collection considers the accordion and its myriad forms, from the concertina, button accordion, and piano accordion familiar in European and North American music to the exotic-sounding South American bandoneon and the sanfoninha. Capturing the instrument's spread and adaptation to many different cultures in North and South America, contributors illuminate how the accordion factored into power struggles over aesthetic values between elites and working-class people who often were members of immigrant and/or marginalized ethnic communities. Specific histories and cultural contexts discussed include the accordion in Brazil, Argentine tango, accordion traditions in Colombia and the Dominican Republic, cross-border accordion culture between Mexico and Texas, Cajun and Creole identity, working-class culture near Lake Superior, the virtuoso Italian-American and Klezmer accordions, Native American dance music, and American avant-garde.
Contributors are María Susana Azzi, Egberto Bermúdez, Mark DeWitt, Joshua Horowitz, Sydney Hutchinson, Marion Jacobson, James P. Leary, Megwen Loveless, Richard March, Cathy Ragland, Helena Simonett, Jared Snyder, Janet L. Sturman, and Christine F. Zinni.
About the Author
Helena Simonett is an assistant professor of Latin American studies, associate director of the Center for Latin American Studies, and adjunct assistant professor in the Blair School of Music at Vanderbilt University. She is the author of Banda: Mexican Musical Life Across Borders.
Reviews
"An excellent collection of ethnomusicology scholarship that will be of interest to those who like world music, ethnography, or unusual instruments."--
Library Journal
"This book should help lift the accordion's reputation to the place it deserves for its role in music history. Highly recommended."--
Choice
"
The Accordion in the Americas
offers a history rich in insights drawn from the complex intertwining of society, race and culture in American music-making."--
Times Literary Supplement
"
The Accordion in the Americas
tells of the symbolism of the accordion and the role the instrument and its genres play in a variety of cultures. Few world instruments are as pervasive as the accordion and few are as under-represented in scholarly literature."--
Journal of Folklore Research
"Ridiculed as the old-world instrument of minority ethnic groups, the accordion has also been largely dismissed as a topic of historical or folkloristic inquiry. This edited volume rights this wrong and traces the accordion from its central European roots to 11 regional forms in the Americas. In this volume, the accordion has received its due recognition and respect as a folk instrument."--
Journal of American Folklore
"An in-depth introduction to the mechanical, musical, and social workings of free-reed instruments in the New World."--
Journal of the Society for American Music
---
Blurbs
"This cultural study of the accordion makes a major contribution to understanding the instrument's important social function within different ethnic cultures. The impressive group of contributors illuminates the importance of studying mass culture and indicates the accordion's enduring significance to many cultural and personal identities."--Victor R. Greene, author of A Singing Ambivalence: American Immigrants between Old World and New, 1830–1930
---