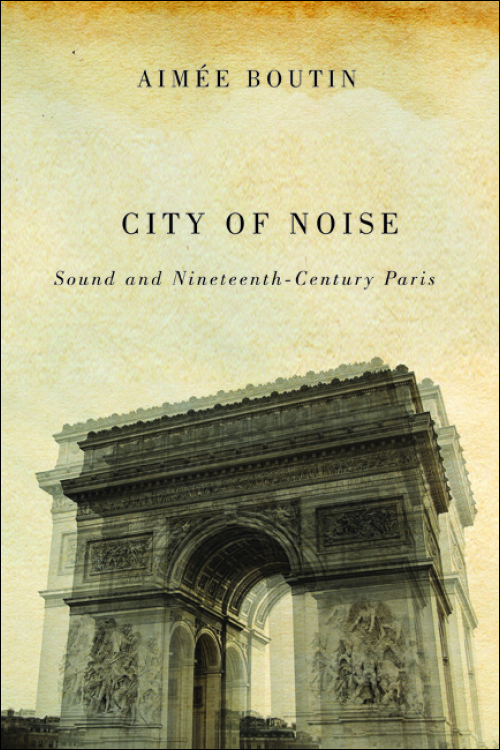 City of Noise
Sound and Nineteenth-Century Paris
Making sense and art of peddlers' cries on the streets of Paris
Cloth – $110
978-0-252-03921-8
Paper – $25
978-0-252-08078-4
eBook – $14.95
978-0-252-09726-3
Publication Date
Cloth: 06/01/2015
About the Book
Beloved as the city of light, nineteenth-century Paris sparked the acclaim and odium with its distinctive soundscapes. Street vendors bellowed songs known as the
Cris de Paris
that had been associated with their trades since the Middle Ages. Flâneurs-writers, fascinated with the city's underside, recorded much about what they heard.
Aimée Boutin tours the sonic space that orchestrated the different, often conflicting, sound cultures that defined Paris's street ambience. Mining accounts from guidebooks to verse, Boutin braids literary, cultural, and social history to reconstruct a lost auditory environment. As Boutin shows, the din of the Cris contrasted economic abundance with the disparities of the capital, old and new traditions, and the vibrancy of street commerce with an increasing bourgeois demand for quiet. In time, peddlers who provided the soundtrack for Paris's narrow streets yielded to modernity, and the fading songs of the Cris became a dirge for the passing of old ways.
About the Author
Aimée Boutin teaches French literature and culture in the Department of Modern Languages and Linguistics at Florida State University. She is the author of Maternal Echoes: The Poetry of Marceline Desbordes-Valmore and Alphonse de Lamartine.
Reviews
"In an innovative effort to provide an auditory history of Paris, Boutin mined the works of 19th-century writers, poets, composers, and painters for descriptions of or images evoking the
cris de Paris
. Recommended."--
Choice
"Boutin convinces us both of the possibility and the value in probing the sounds of the city of light in the nineteenth century."--
Nineteenth Century Contexts
"This richly documented and timely book makes an important contribution to studies in sensory history and enriches our understanding of the context in which nineteenth-century French poetry developed, illuminating the visceral shocks of modernity which writers placed at the heart of their work."--
Nineteenth Century French Studies
"Exploratory and rich in its investigation of multi-sensory critical methods as well as in its pursuit of the aural
flaneur
."--
French Studies
"Boutin provides a particular perspective on comprehending nineteenth-century Paris as a "city of noise," and it is a rich one."--
H-France Review
"Readers from all disciplines will appreciate Boutin's elegant prose and her convincing argument that the City of Light has always been a city of sound."--
Canadian Journal of History
"Boutin does not shy away from the inevitable tensions between text and context arising from the analysis of literary, journalistic or visual discourse." --
Transposition
---
Blurbs
"In City of Noise, Aimée Boutin raises fresh critical questions about the status of sound, music, and noise that transform our understanding of nineteenth-century Parisian soundscapes. Starting with a familiar nineteenth-century Parisian figure--the flâneur--Boutin turns our attention to an under-explored facet of the flâneur: the sounds and noises encountered on a stroll through the city. Boutin offers lively discussions of rarely considered first-hand accounts of the different types of street music and street cries heard in the Parisian cityscape. By taking the unique perspective of the peddler, City of Noise brings that world to life in a way that has never been tackled before. Boutin offers a real sense of how noisy Paris was and how these noises affected its citizens and their way of going about their daily business. The vast array of multimedia materials considered here (from poetry to music criticism, to guidebooks and visual sketches) means that City of Noise will be of interest to scholars, students and amateurs of nineteenth-century Paris alike."--Helen Abbott, University of Sheffield

"City of Noise treats a timely, original, and intellectually rich topic: the street sounds of Paris in the nineteenth century and, no less essential, the experience, meaning, and depiction of those sounds."--James H. Johnson, author of Listening in Paris: A Cultural History

"City of Noise provides a fascinating perspective on the evolution of aural modernity in France. This is an important contribution to the interconnected fields of literary studies and history of the senses. Boutin's analysis compels us to tune in the sounds of the past, listen to the music and noise of texts, and hear the streets around us in new ways."--Cheryl Krueger, author of The Art of Procrastination: Baudelaire's Poetry in Prose

"This is an excellent and important piece of work, engaging and lucid while still being scholarly."--Richard Cullen Rath, author of How Early America Sounded
---