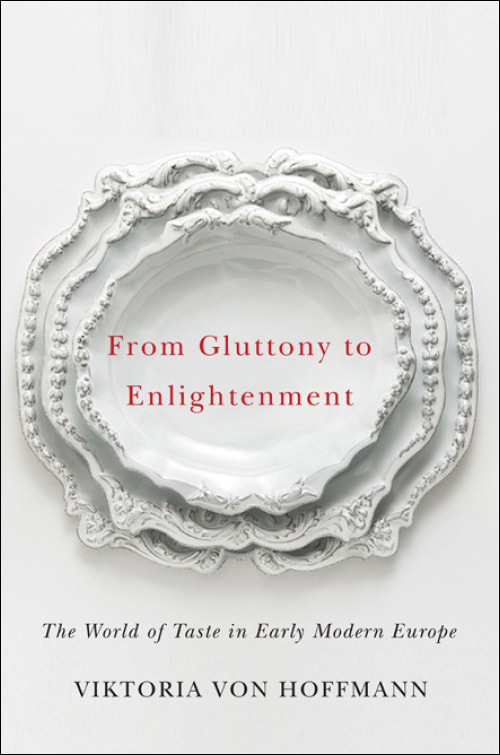 From Gluttony to Enlightenment
The World of Taste in Early Modern Europe
Mystery, metaphor, and the creation of a new sensual realm
Cloth – $110
978-0-252-04064-1
Paper – $28
978-0-252-08214-6
eBook – $19.95
978-0-252-09908-3
Publication Date
Paperback: 12/26/2016
Cloth: 12/26/2016
About the Book
Scorned since antiquity as low and animal, the sense of taste is celebrated today as an ally of joy, a source of adventure, and an arena for pursuing sophistication. The French exalted taste as an entrée to ecstasy, and revolutionized their cuisine and language to express this new way of engaging with the world.
Viktoria von Hoffmann explores four kinds of early modern texts--culinary, medical, religious, and philosophical--to follow taste's ascent from the sinful to the beautiful. Combining food studies and sensory history, she takes readers on an odyssey that redefined a fundamental human experience. Scholars and cooks rediscovered a vast array of ways to prepare and present foods. Far-sailing fleets returned to Europe bursting with new vegetables, exotic fruits, and pungent spices. Hosts refined notions of hospitality in the home while philosophers pondered the body and its perceptions. As von Hoffmann shows, these labors produced a sea change in perception and thought, one that moved taste from the base realm of the tongue to the ethereal heights of aesthetics.
About the Author
Viktoria von Hoffmann is a postdoctoral researcher at the University of Liège.
Reviews
"A fascinating read. . . . Recommended."--
Choice
"Hoffmann's volume takes us on a great journey that, ultimately, explores that which makes us human. An impressive and nuanced study, it is, above all, a worthy addition to the expanding menu of sensory studies."--
Social History
"Von Hoffman writes with crossdisciplinary dexterity, fusing history, sociology, theology, philosophy, and economics in her scrupulously researched monograph."--
Santa Fe New Mexican
"[An] engaging history of a neglected sense." --
French Studies: A Quarterly Review
"A satisfyingly balanced investigation of the evolution of taste between about 1500 and 1800. Hoffmann masterfully synthesizes over two hundred different primary sources to show, rather convincingly, that gastronomy was part and parcel of broader cultural shifts." --
Fides Et Historia
---
Blurbs
"A highly intelligent and well-documented intellectual history of taste in the early modern period. It gave me dozens of topics to consider writing about."--James McWilliams, author of The Pecan: A History of America's Native Nut

"Von Hoffmann's study gives a comprehensive overview of writings on early modern taste from the standpoint of cuisine, medicine, religion, and philosophy. Rich and thoroughly researched."--Emma C. Spary, author of Eating the Enlightenment: Food and the Sciences in Paris, 1670–1760
---