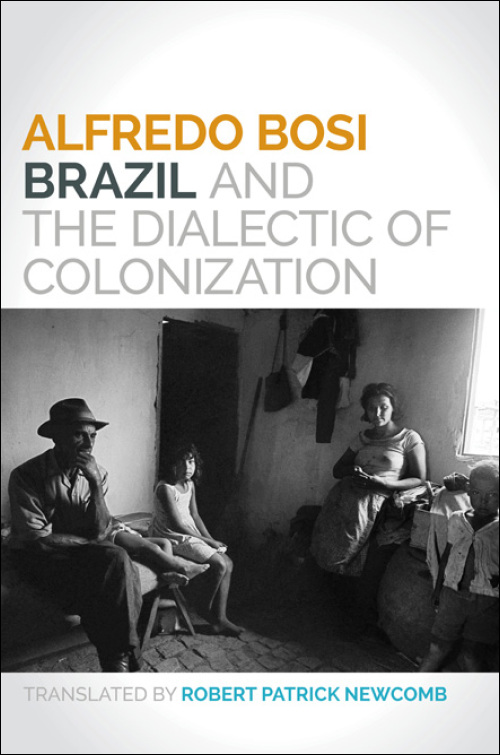 Brazil and the Dialectic of Colonization
Translated by Robert Patrick Newcomb
The provocative classic in its first-ever English translation
Cloth – $125
978-0-252-03930-0
Paper – $35
978-0-252-08084-5
eBook – $19.95
978-0-252-09735-5
Publication Date
Cloth: 09/14/2015
About the Book
A classic of Brazilian literary criticism and historiography,
Brazil and the Dialectic of Colonization
explores the unique character of Brazil from its colonial beginnings to its emergence as a modern nation. This translation presents the thought of Alfredo Bosi, one of contemporary Brazil's leading intellectuals, to an English-speaking audience.
Portugal extracted wealth from its Brazilian colony. Slaves--first indigenous peoples, later Africans--mined its ore and cut its sugarcane. From the customs of the colonists and the aspirations of the enslaved rose Brazil. Bosi scrutinizes signal points in the creation of Brazilian culture--the plays and poetry, the sermons of missionaries and Jesuit priests, the Indian novels of José de Alencar and the Voices of Africa of poet Castro Alves. His portrait of the country's response to the pressures of colonial conformity offers a groundbreaking appraisal of Brazilian culture as it emerged from the tensions between imposed colonial control and the African and Amerindian cults--including the Catholic-influenced ones--that resisted it.
Wide-ranging and provocative, Brazil and the Dialectic of Colonization reconceives the material and symbolic processes behind colonization, and daringly links the economic practices of its agents to their means of survival, their memory, their ways of representing themselves and others, and their desires and hopes.
* Funds for the publication of this translation were provided by the Lemann Institute for Brazilian Studies, University of Illinois at Urbana-Champaign, and by the Ministerio da Cultura do Brasil / Fundação Biblioteca Nacional.
About the Author
Alfredo Bosi is the director of the Institute of Advanced Studies at the University of São Paulo. He is the author of A Concise History of Brazilian Literature. Robert Patrick Newcomb is an associate professor of Luso-Brazilian studies at the University of California, Davis.
Reviews
"The dialectical processes Bosi describes help one understand both the context and contours of the passage from premodern to modern--mechanisms that remain operative in countries that, like Brazil, experienced an extended colonial period of development. Recommended."--
Choice
"Bosi's work, through Newcomb's translation, will undoubtedly reach and educate a broad audience of English speakers not entirely acquainted with Brazil."--
Hispania
"
Brazil and the Dialectic of Colonization
is a very important book, written by one of the most respected intellectuals in Brazil."--
Journal for Brazilian Studies
"The
Dialectic of Colonization
, published in Portuguese in 1992, is Bosi's most influential work, evoking for a millennial public iconic forms of brasilidade such as corporatism, cordiality, and evolutionary radicalism." --
Ethos and Pathos in Millennial Brazil
---
Blurbs
"This classic of Brazilian literary and social criticism defies the artificial boundaries dividing the colonial from the modern, the religious from the secular, or 'high' from 'popular' culture. This singular survey offers a penetrating interpretation of the moral dynamics and contradictions that characterized missionaries, sculptors, poets, novelists, popular artists, and lawyers across three centuries. Ranging widely from elite literary texts and baroque sculpture to 'archaic' Catholic folk images and positivist reveries, it offers a dazzling exegesis of language, metaphor, and allegory while connecting past and present as a spiral through time within the Luso-Brazilian colonial space. . . . A must-read tour de force."--John D. French, author of Drowning in Laws: Labor Law and Brazilian Political Culture

"In an array of masterfully crafted literary and cultural analyses, this book sheds light on the experience of people who navigate the troubled waters of the colonial condition. Moved by those who lacked an established voice in the colonial world, Bosi explores the inner drama of those who witnessed and wrote about a Brazil in the making: surrounded by the illiterate, where did their loyalties lie?"--Pedro Meira Monteiro, Princeton University

"A modern Brazilian classic. Written by a distinguished professor of literature, the essay ranges across several disciplines. Each chapter is organized around a particular moment in national history, illustrating fundamental themes of Brazilian culture. In the final chapter, the author relates what Robert Redfield called the Great Tradition ('high' culture) to the Little Tradition (popular culture), showing how they have borrowed and adapted from each other across the centuries."--Joseph L. Love, former director, Lemann Institute of Brazilian Studies, University of Illinois
---