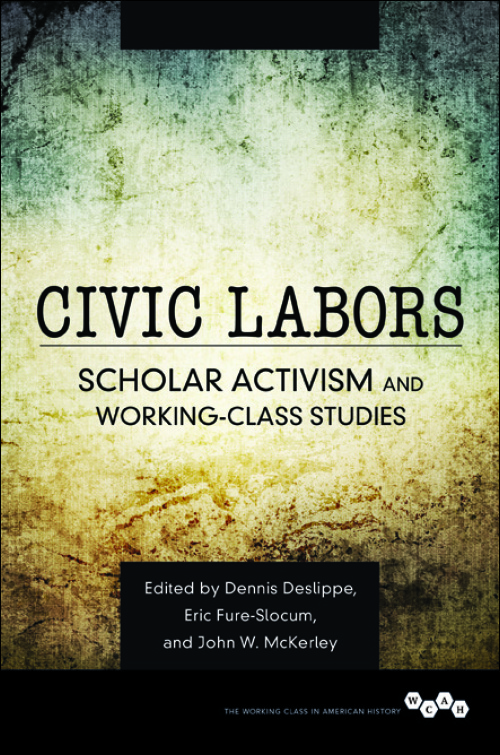 Civic Labors
Scholar Activism and Working-Class Studies
At the crossroads of writing, teaching, and living the struggle
Cloth – $125
978-0-252-04049-8
Paper – $28
978-0-252-08196-5
eBook – $19.95
978-0-252-09893-2
Publication Date
Paperback: 11/07/2016
Cloth: 11/07/2016
About the Book
Labor studies scholars and working-class historians have long worked at the crossroads of academia and activism. The essays in this collection examine the challenges and opportunities for engaged scholarship in the United States and abroad. A diverse roster of contributors discuss how participation in current labor and social struggles guides their campus and community organizing, public history initiatives, teaching, mentoring, and other activities. They also explore the role of research and scholarship in social change, while acknowledging that intellectual labor complements but never replaces collective action and movement building.
Contributors: Kristen Anderson, Daniel E. Atkinson, James R. Barrett, Susan Roth Breitzer, Susan Chandler, Sam Davies, Dennis Deslippe, Eric Fure-Slocum, Colin Gordon, Michael Innis-Jiménez, Stephanie Luce, Joseph A. McCartin, John W. McKerley, Matthew M. Mettler, Stephen Meyer, David Montgomery, Kim E. Nielsen, Peter Rachleff, Ralph Scharnau, Jennifer Sherer, Shelton Stromquist, Emily E. LB. Twarog, and John Williams-Searle.
* Publication supported by a grant from Franklin & Marshall College.
About the Author
Dennis Deslippe
is an associate professor of American studies and women's and gender studies at Franklin and Marshall College. He is the author of
"Rights, not Roses": Unions and the Rise of Working-Class Feminism, 1945-1980
.
Eric Fure-Slocum
is an associate professor of history at St. Olaf College and the author of
Contesting the Postwar City: Working-Class and Growth Politics in 1940s Milwaukee
.
John W. McKerley
is a research associate at the University of Iowa Labor Center and coeditor of
Foot Soldiers for Democracy: The Men, Women, and Children of the Birmingham Civil Rights Movement
.
---
Also by this author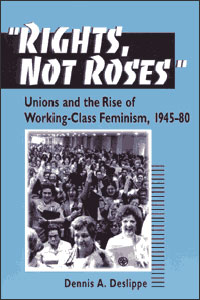 Reviews
"Addresses the many ways scholars can be and are activists outside the ivory tower, as well as the risks that they may face when they engage in this activism. . . . Readers will be reminded why they became labor historians."--
Journal of American History
"This publication is a well-deserved tribute to Stromquist, who is held in the highest regard by labor historians for his keen intellect, generous spirit, and commitment to social justice." --
Labor: Studies in Working-Class History
"This book makes an important contribution to the field of working-class studies by offering a 'sober-yet hopeful' outlook on the challenges and opportunities of scholar activism." --
Capital & Class
---
Blurbs
"At once an introduction to the long tradition of engaged scholarship among labor historians and a guide to the richly varied ways many have found to make a difference today, Civic Labors is a perfectly timed treasure trove of inspiration."--Nancy MacLean, author of Freedom Is Not Enough: The Opening of the American Workplace

"These essays provide illuminating insights into what it means to be an engaged academic and citizen of labor. Graced by Shelton Stromquist's sharp essay and David Montgomery's endearing comments, in this one volume we find a true community of scholars who seek to understand and change the world."--Michael Honey, author of Going Down Jericho Road: The Memphis Strike, Martin Luther King's Last Campaign
---